with Pat Connor, MD
FROM SNAPPED ACL IN HIGH SCHOOL TO A COLLEGE SOCCER CAREER
---
"I feel very lucky to have minimal scarring and the ability to return to playing with full functionality -- thanks to Dr. Connor and the staff at the OrthoCarolina Sports Medicine Center."
---
Female athletes have been known to have a higher risk of injuring their anterior cruciate ligament, or ACL while participating in competitive sports. McKaley Boston knows that pain all too well. During the spring of 2015, she was a freshman trying to earn her spot on her high school varsity team. She was playing in a college combine soccer scrimmage when she was tackled to the ground fighting for a loose ball. She heard her knee pop the moment they collided. After crumpling to the ground, Boston got back up with the help of a trainer and was advised to sit out for the rest of the game, treat it at home and keep an eye on it.
She was terrified that her soccer career had just ended.
---
Down but Not Out
A few weeks later, the swelling hadn't gone down and wasn't getting better so McKaley went to see a specialist for an MRI, afraid that it was something more serious. The MRI results showed that her ACL had completely snapped and surgery was her best option. Dr. Pat Connor, team physician to the Carolina Panthers has performed thousands of successful knee surgeries and assured her that this one was no different. He reminded McKaley and her family that the ACL tear used to be "career-ending" but now with medical advancements, it is typically only "season-ending", and that she would be back to herself in no time.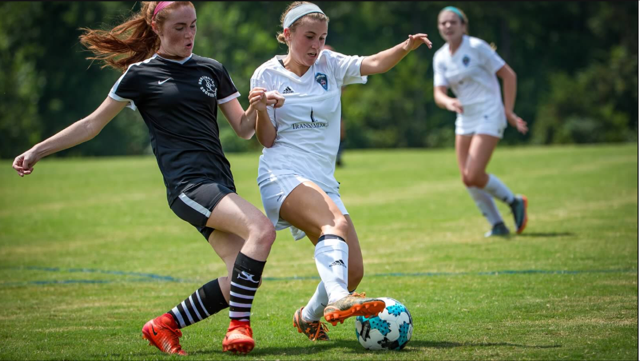 ---
A Long Road Ahead
McKaley's body didn't tolerate anesthesia well, and being sick on top of a huge injury made it that much harder to recover. She started rehab a few weeks later and had to learn how to walk again.
"It was the most difficult thing I've ever had to go through."
She learned that there were two types of options for rehabilitation: repairing the patella or the hamstring. Typically, for soccer injuries and pivoting, rehabbing the hamstring is more beneficial. There was muscle atrophy on her leg because she wasn't using it, so she was determined to work harder than ever to get back on the soccer field again. Overall, it took McKaley 10-12 months to recover mentally and physically before she could safely make her way onto the field. She credits her full recovery to her dedication to going through rehabilitation because it is such a critical component in the recovery process.
---
Back in Bounds
During her career at Gaston Day, McKaley was a three-time All-State and All-Conference player, while also earning the school's Judy Joyce Senior Athlete Award, which is given to a senior with high academic and athletic achievement. Additionally, she holds the school's single-season goal record with 38.
After her successful recovery, McKaley went on to play soccer at Greensboro College.
---
---
Back