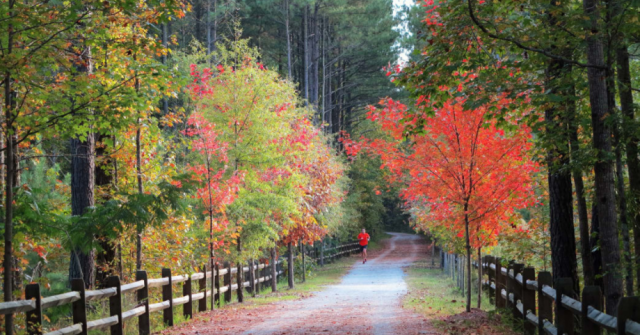 Written by Ann Gibson for Matcha in partnership with OrthoCarolina
Choose a rail trail for your next run or ride and one of the first things you'll notice is the diverse mix of people sharing the trail with you. That's because these recycled railroad routes are usually wide, with a smooth surface of pavement, crushed stone, or gravel. Most are gently graded and travel through urban centers. Unlike technical singletrack trails and fire roads, the majority have ADA-accessible segments for wheelchairs, strollers, recumbent bikes, and trikes.
These trails are easy to reach, they're designed for people of all ages and abilities, and they're safely tucked into scenic, pedestrian-friendly corridors that are removed from the flow of traffic. Plus, many rail trails extend for miles so runners and cyclists can use them for training for their next endurance race.
Since rail trails were introduced over 50 years ago, their popularity has grown steadily. There are more than 200 in the Carolinas and Virginia alone, with work on the 12-state, coast-to-coast Great American Rail-Trail from Washington State to Maryland already 50 percent complete, and the 3,000-mile East Coast Greenway between Maine and Florida 33 percent complete. As you're exploring the Southeast, be sure to check out these 12 excellent rail trails.
1. Kings Mountain Gateway Trail, North Carolina
You'll traverse crushed stone, gravel, and a boardwalk as you follow North Carolina's Kings Mountain Gateway Trail, which stretches almost eight miles. Along the way, you'll encounter diverse scenery, from hardwood forests to farmland before reaching downtown Kings Mountain. From there, the path tours Crowders Mountain State Park, Kings Mountain State Park, and Kings Mountain National Military Park.
2. Shelby Farms Greenline, Tennessee
The 10.6-mile Shelby Farms Greenline Trail brings the outdoors to Midtown Memphis by connecting one of the country's largest urban parks with the city center. Bike the wide, shady corridor through the 4,500-acre Shelby Farms Park to stops at the Woodland Discovery Playground, a disc golf course, and a zipline.
3. American Tobacco Trail, North Carolina
The 22.2-mile paved and stone dust American Tobacco Trail used to be the Norfolk Southern Railway supply line for Durham's tobacco plants. Start at the Durham Bulls Stadium in downtown to ride all the way to Cary, Apex, or Morrisville on connecting spur trails. Highlights are a 270-foot steel pedestrian bridge over I-40 and a stop at Cloer Family Vineyards in Wake County.
4. Silver Comet Trail, Georgia
From 1947 to 1969, the Silver Comet Train carried passengers between New York City and Birmingham, Ala., including service to Atlanta. In 1998, the portion of the rail line running from Smyrna, Ga., to Alabama was transformed into the paved, multi-use Silver Comet Trail.
The 62-mile path primarily attracts cyclists, but it also serves plenty of walkers and hikers, and there are 17 access points for people with disabilities. The 5-mile section between the Rambo Nursery and McPherson Road is especially attractive, as it passes between quiet woods and fields and crosses a 700-foot bridge that sits 100 feet above Pumpkinvine Creek.
5. Chief Ladiga, Alabama
Perfect for a family day trip, the 33-mile Chief Ladiga Trail takes you on an easy ride through the Alabama countryside just over an hour west of Atlanta. Stop at historic train depots in Weaver and Jacksonville on your way to the Georgia state line, where distance cyclists can pick up the Silver Comet Trail for up to 62 additional miles of biking all the way to Smyrna.
6. High Bridge Rail Trail, Virginia
The 32.4-mile High Bridge Trail in central Virginia is named for the half-mile bridge that spans the Appomattox River, towering 125 feet above the water at Farmville. During the Civil War, Union and Confederate troops took turns trying to cut supply lines by destroying the strategic river crossing. Now, you can hike, bike, and ride horses through the farmland and forests on both sides of the river.
7. Peak to Prosperity Passage, South Carolina
Hike and bike the Peak to Prosperity Passage, a 10-mile section of the cross-state Palmetto Trail in South Carolina. The crushed stone and dirt trail follows the flat terrain of the Sandhills region along the Broad River between the towns of Peak and Prosperity. As you take a 1,100-foot trestle bridge over the Broad River, you might spy bald eagles soaring above. As you continue through the forest, there's a chance you'll see bears, deer, and wild turkeys.
8. Walnut Creek Trail, North Carolina
The paved and crushed stone Walnut Creek Trail runs east to west covering just over 19 miles from Lake Johnson Park through Raleigh to the trail junction with the Neuse River Trail. It circles 150-acre Lake Johnson on a 4.4-mile partially paved trail where you can rent canoes, kayaks, stand-up paddleboards, and paddle boats. The path passes through loblolly pine forests to visit the Walnut Creek Wetland Center as well as the State Farmers Market in Raleigh where you'll find fresh produce and a variety of specialty shops. Connections to Rocky Branch and Little Rock Trails add another five miles to your trip.
9. Neuse River Trail, North Carolina
Follow North Carolina's Neuse River Trail for 30 miles from the Falls Lake Dam to Clayton on a path that's partly paved and partly boardwalk. Two suspension bridges take you across the river and through wetlands on your way to four additional miles on the Clayton Riverwalk. The southern terminus also connects to the Walnut Creek Trail.
10. Richmond & Danville Rail Trail, Virginia
The Richmond-Danville Railroad in Virginia was a major Confederate supply line during the Civil War. Now, the Richmond & Danville Rail Trail allows hikers, equestrians, mountain bikers, and cross-country skiers to explore the farming communities and wetlands between Ringgold and Sutherlin. Plaques along the route describe key Civil War events, and a red caboose at the Sutherlin trailhead marks the site of a restored railroad depot.
11. Riverwalk Trail, Virginia
The nine-mile paved Riverwalk Trail in the hills surrounding Danville, Va., follows the Dan River to connect the historic downtown to town parks and the Danville Science Center. You'll cross the river on a restored mid-1850s rail bridge and pass many Civil War historic sites between downtown and the trailhead at Anglers Park.
12. Tanglefoot Trail, Mississippi
Cruise the Appalachian foothills on Mississippi's longest rails-to-trails corridor. The 43.6-mile Tanglefoot Trail follows historic routes blazed by early explorers Hernando de Soto and Meriwether Lewis. Stop for a bite to eat in New Albany, Pontotoc, or one of the other four historic towns along the route.
Written by Ann Gibson for Matcha in partnership with OrthoCarolina.
Comments
---
Back