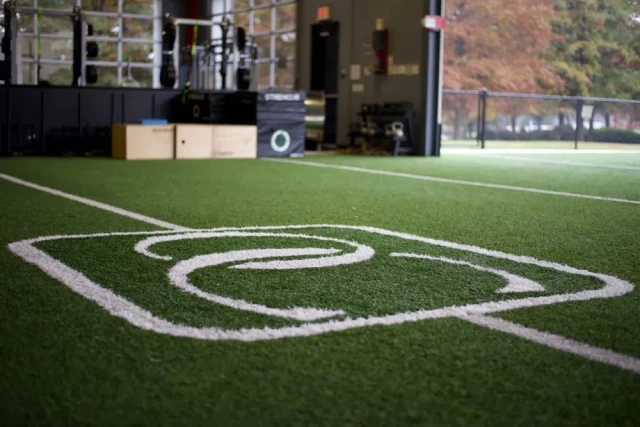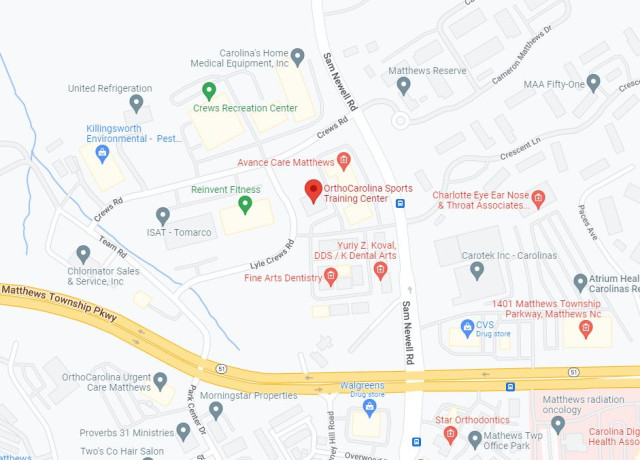 Address
1205 Mann Drive
Matthews
,
NC
28105
Sports Physical Therapy

OrthoCarolina's Sports Physical Therapists and athletic trainers are highly trained to assist patients in getting back to their favorite sport or workout routine as quickly as possible after injury or surgery. In addition to standard physical therapy services, sports physical therapy offers individualized programs for return to sport including video analysis of throwing mechanics and/or running mechanics as well as functional testing after ACL (including Y balance testing and vertical jump testing using a force plate). The OrthoCarolina Wellness Center's turf field and full weight room allow staff to evaluate running, cutting, and lifting abilities to ensure athletes are at full performance upon return.

---
Our licensed physical therapists have advanced training in treating musculoskeletal, orthopedic, and functional movement impairments. We are equipped to deliver individualized rehabilitation programs to give our patients the opportunity to achieve a successful recovery with limited downtime.
WE ARE FOCUSED ON DELIVERING INDIVIDUALIZED TREATMENT AND CUSTOM REHABILITATION FOR PATIENT SUCCESS:
Musculoskeletal injuries
Orthopedic specialties in Sports Related Injuries, Hip, Knee, Foot, Ankle, and Upper Extremities
Additional specialties:
Blood flow restriction
Functional Capacity Evaluations
Manual Therapy
Sports
Work Conditioning
---
The Sports Training Center offers physical therapy, work conditioning, post-physical therapy bridge fitness classes, adult fitness boot camp classes, youth sports performance classes, personal training, and sports team training. The Sports Training Center staff includes physical therapists, athletic trainers, work rehabilitation specialists, patient services specialists, and personal trainers.

Performance is in part about nurturing and developing strength and resilience. When it comes to teamwork, performance is also about creating a culture around trust and a united purpose. The Sports Training Center team is committed to offering the highest quality training facilities and services to our community and to you as we continue to grow along with OrthoCarolina.