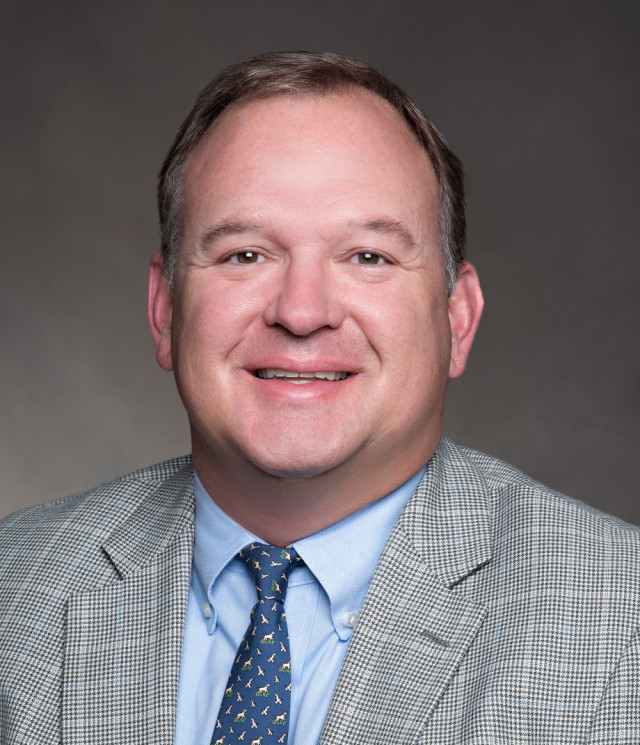 Specialties:
Elbow

Hip

Knee

Shoulder

Sports Medicine

Trauma
Fellowship Trained:
Sports Medicine
Biography
Dr. W. Bryan Jennings earned his undergraduate degree from the University of Georgia and his medical degree from Des Moines University College of Osteopathic Medicine and Surgery. After completing a general internship and orthopedic residency at Ohio University's Grandview Hospital and Medical Center in Dayton, Ohio, he was awarded a Fellowship in Sports Medicine / Arthroscopy from Orthopedic Research of Virginia. During his fellowship, he was a member of the medical staff caring for the Washington Redskins, as well as many Richmond, Virginia area high school and college athletes.
A native of Charlotte, Dr. Jennings returned closer to home to begin his orthopedic practice. Dr. Jennings is Board Certified in Orthopedic Surgery, specializes in shoulder and knee reconstruction, and enjoys practicing general orthopedics.
In his spare time, Dr. Jennings enjoys spending time with his wife and children and occasionally fly-fishing or playing a round of golf.
University of Georgia - B.S. in Biology
Des Moines University - Doctor of Osteopathic Medicine
Ohio University College of Osteopathic Medicine - Residency
Orthopedic Research of Virginia - Sports Medicine and Arthroscopic Surgical Fellowship
Specializes in Hip and Knee
Specializes in Shoulder and Elbow
Specializes in Sports Medicine and Trauma
---
Professional Organizations:
American Academy of Orthopaedic Surgeons
American Orthopaedic Society for Sports Medicine
Arthroscopy Association of North America
American Osteopathic Academy of Orthopaedics
American Medical Association
American Osteopathic Association
Forsyth-Stokes-Davie County Medical Society
North Carolina Orthopaedic Association
North Carolina Medical Society
Forsyth Medical Center
Medical Park Hospital: Chief of Staff, 2009-2010 and 2015-2016, Orthopaedic Section Chief, 2006-2009 and 2011-present
Team Physician: North Forsyth High School, Winston-Salem, NC
Medical Staff Member: Washington Redskins football organization during sports medicine fellowship, 8/03-7/04
PUBLICATIONS
W. B. Jennings, Goradia, V.K., et. al. "Sizing of meniscal allografts: Comparison of plain radiographs, magnetic resonance imaging, and cadaveric measurements." Poster presentation American Academy of Orthopaedic Surgeons Annual Meeting February 2005 – Washington, DC, publication pending.
Thal R, W.B. Jennings, Heusch, W.L. "Arthroscopic Rotator Cuff Repair Using the Suture Loop Shuttle Technique." Arthroscopy. 2007 May;23(5):561.e1-4. Epub 2007 Feb 14
M.A. Mighell, W. B. Jennings, M.A. Frankle. "Technique for Unstable Two-Part Proximal Humeral Fractures Utilizing an Intramedullary Staple Device: The Evan's Staple." Techniques in Shoulder & Elbow Surgery. 4(2):84-88, June 2003.
J.D. DiCicco, W.B. Jennings, J.E. Saunders. "Effects of Retrograde Femoral Intramedullary Nailing on Anterior Cruciate Ligament Femoral Graft Position: A Cadaveric Analysis." Publication pending.
A.F. Infante, M.C. Albert, W.B. Jennings, J. T. Lehner. "Immediate Hip Spica Application for Pediatric Femur Fractures: A Review of 175 Patients." Poster and presentation - Orthopaedic Trauma Association Annual Meeting, October 1998 - Vancouver, British Columbia; presentation American Academy of Orthopaedic Surgeons Annual Meeting, February 1999 – Anaheim, California; Clin. Orthop.376: 106-12, 2000.
D. A. Warren, S. E. Bowen, W. B. Jennings, C. E. Dallas and R. L. Balster. "Biphasic Effects of 1,1,1-Trichloroethane on the Locomotor Activity of Mice: Relationship to Blood and Brain Solvent Concentrations." Toxicological Sciences 56, 365-73, 2000.