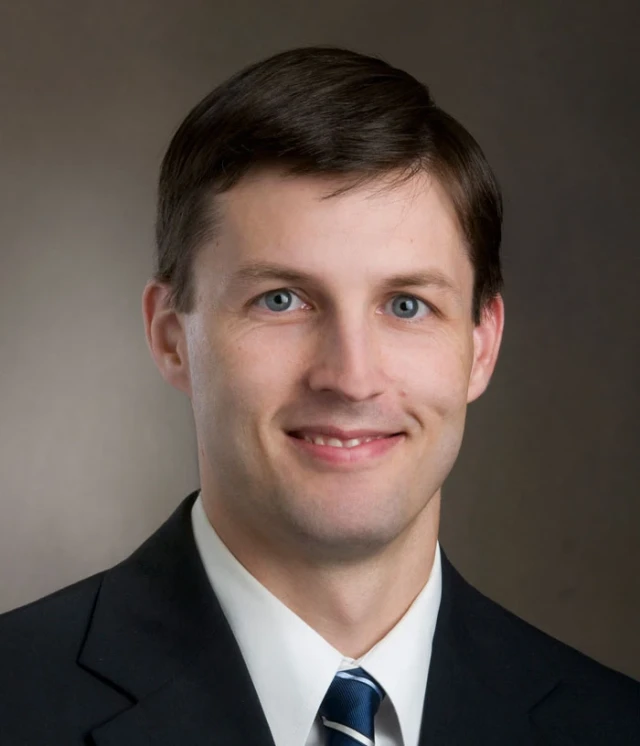 Specialties:
Spine
Fellowship Trained:
Spine
Biography
Dr. Segebarth specializes in treating disorders of the spine. After graduating orthopedic surgery residency at Vanderbilt University Medical Center, he completed a spine surgery fellowship at OrthoCarolina. He then practiced spine surgery in Knoxville, TN at UTMC for two years before returning to Charlotte. He now serves as the Director of the OrthoCarolina Spine Fellowship Program. He has published numerous scientific articles on spine surgery and has a passion for teaching. He serves as a reviewer for multiple peer-reviewed spine journals. Dr. Segebarth is actively involved with AO Spine North America and has served in national roles on the AOSNA Fellowship Committee, and currently the AOSNA Education Committee. His clinical interests include complex spine reconstruction, degenerative spine conditions, scoliosis, and spine trauma. Outside of work, Dr. Segebarth enjoys time with his wife and four children participating in outdoors, athletics, and traveling.
University of Kentucky -- Bachelor of Science
University of Kentucky College of Medicine -- Doctor of Medicine
Vanderbilt University Medical Center -- Residency
OrthoCarolina Spine Center -- Fellowship, Spine Surgery
2003-present Vanderbilt Orthopaedic Society
2003-2007 Alpha Omega Alpha Honor Medical Society
2012-present North Carolina Spine Society
2012-present Cervical Spine Research Society
2016, 2017 - Annual Meeting Program Committee
2012-2017 North American Spine Society (inactive)
2013-present Fellow, American Academy of Orthopaedic Surgery
2014-present Lumbar Spine Research Society
2014-2015 - Education Committee.
2018-2020 – Fellowship Committee
2021-present AO Spine North America Faculty
2021-current – Education Committee
Otis A. Singletary Scholarship, full tuition four-year merit scholarship
Howard Hughes Medical Institute research grant for summer 1996
Howard Hughes Medical Institute research grant for fall 1996 and spring 1997
Graduated summa cum laude, first in class Medical School
Dean's Recruitment Scholarship, full tuition four-year renewable merit scholarship
Wilson Sebastian Jr. M.D. Memorial Scholarship, four-year renewable
Academic Excellence Scholarship
AOA chapter Vice President
Graduated first in class
Segebarth B, Zimmer S "Translational Regulation of mRNA in Human Breast Cancer." Transactions of the Kentucky Academy of Science. 58:1 (1997): 46-47
Segebarth B, Limbird T "Perioperative Acute Upper Airway Obstruction Secondary to Severe Rheumatoid Arthritis." Journal of Arthroplasty. 22:6 (2007): 916-919.
Segebarth B, Datta J, et al "Incidence of Dysphagia Comparing Cervical Arthroplasty and ACDF." SAS Journal. 4:1 (2010): 3-8. • Segebarth P.B., Darden B; Dysphagia: Perioperative Risk Factors, Diagnosis, and Treatment. Handbook of Pharyngeal Diseases: Etiology, Diagnosis and Treatment, Nova Science Publishing, Hauppauge, NY (2012)
Segebarth B, Kurd M, Haug P, Davis R "Routine Upright Imaging for Evaluating Degenerative Lumbar Stenosis: Incidence of Degenerative Spondylolisthesis Missed On Supine MRI" JSDT 2014Oct 28
Bible JE, Kay JF, Shau DN, O'Neill KR, , Segebarth PB, Devin CJ. "What patient characteristics could potentially affect your patient satisfaction scores during spine clinic?" Spine 2014 Apr 2
Mendoza M, Odum S, Baluch D, Milam R, Segebarth B, Darden B, Laxer E, Chapman T, Spector L "Is There an Association Between Patients' Expectations and Satisfaction Scores in an Outpatient Setting?" The Spine Journal. 17(10): S114 2017
Laxer EB, Brigham CD, Darden BV, Segebarth PB, Milam RA, Rhyne AL, Odum SM, Spector LR "Adjacent segment degeneration following ProDisc-C total disc replacement (TDR) and anterior cervical discectomy and fusion (ACDF): does surgeon bias effect radiographic interpretation?" Eur Spine J (2017) 26:1199-1204.
Jean-Christopher A. Leveque, MD, Bradley Segebarth, MD, Samuel R. Schroerlucke, MD, Nitin Khanna, MD, John Pollina, Jr., MD, Jim A Youssef, MD, Antoine G. Tohmeh, MD and Juan S. Uribe, MD. "A Multicenter Radiologic Evaluation of the Rates of Preoperative and Postoperative Malalignment in Degenerative Spinal Fusions," Spine, July 2018, Volume 43, Number 13. Pp: E782 - E789
Curtin BM, Odum SM , Segebarth, PB, OrthoCarolina Quality Improvement Committee. Unintended Bundle Payments for Care Improvement Consequences After Removal of Total Knee Arthroplasty From In-Patient Only List. J Arthroplasty. 2019 Feb 27
Berger R, Bulloch L, Hysong A, Huggins B, Horan N, VanDerNoord R, Segebarth B. "Establishing a common language for lumbar transforaminal epidural steroid injections". Journal of Spine Surgery 7(4):467-474 2020
McConda D, Odum S, Chapman M, Segebarth B. "P98. Radiographic sagittal alignment in the asymptomatic elderly: what is normal for age?" The Spine Journal. 20(9):S193 2020 • Sembrano JL, Miguel JS, Yson S, Laxer E, Prasher A, Schroerlucke S, Leveque JC, Segebarth B, Khanna N "142. A prospective multicenter evaluation of the relationship between standing and recumbent spinopelvic alignment in the supine, lateral or prone position"
The Spine Journal. 21(9):S71 2021 PRESENTATIONS AT PROFESSIONAL MEETINGS • Hartford, Segebarth, Shapiro, Brindle, Moncer, McCrory "Mobile-Bearing and Posterior-Substituting Knee Replacements: A Gait Analysis" poster presentation at Mid-America Orthopaedic Association 4/2002 Tucson AZ and American Academy of Orthopaedic Surgeons 2/2002 Dallas TX
Segebarth B. "Dynamic Imaging in Lumbar Stenosis". Presented to Vanderbilt Orthopaedic Society, San Destin FL, 3/2007 • Segebarth B, et al. "Incidence of Dysphagia Comparing Cervical Arthroplasty and ACDF"
Presented to AO Spine North America Fellows' Symposium, Banff Canada, 4/2008 • Bui T, Spector L, Odum S, Darden B, Segebarth B, Patti J, Milam A, Brigam C, Rhyne A, Laxer E. Adjacent Segment Degeneration following ProDisc-C Total Disc Replacement and Anterior Cervical Discectomy and Fusion: Does Surgeon Bias Effect Radiographic Interpretation? Presented by T. Bui at CSRS 2012
Segebarth B, Davis R "Importance of routine upright imaging for evaluating degenerative lumbar stenosis: Incidence of degen
Dr. Segebarth was very knowledgeable and friendly. He was clear and precise in his evaluation.