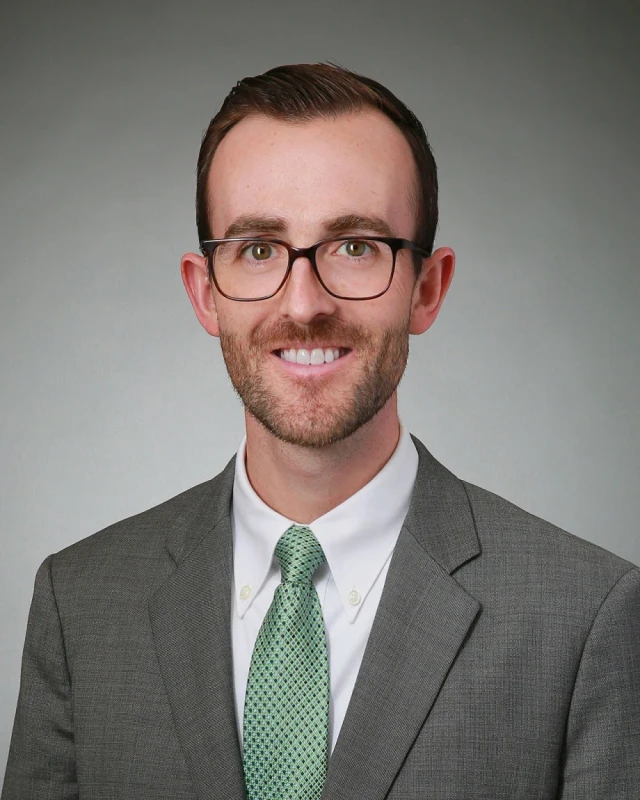 Fellowship Trained:
Hand
Biography
I enjoy long-distance running, reading, and spending time with family. Outside of work I enjoy spending time with my wife and 7 kids. I am among the many transplants from Upstate New York who happily call the greater-Charlotte area home.
Fellowship – OrthoCarolina Hand & Upper Extremity
Residency – Atrium Health - Carolinas Medical Center/OrthoCarolina
University of Rochester School of Medicine and Dentistry
Williams College - Bachelor of Arts in Chemistry
August 2020: AOA Resident Leadership Forum participant.
September 2019: Daniel C. Riordan Award. Awarded by the Daniel C. Riordan Hand Society to attend the 2019 ASSH Annual Meeting in Las Vegas, NV.
November 2018: Resident Scholarship. IPOS 2018 course. Orlando, FL.
November 2018: Resident Scholarship. AAHKS Annual Meeting, resident arthroplasty course. Dallas, TX.
October 2018: "Best Paper" in Total Joints/Bundling session. Why do Revision Total Knee Arthroplasties Fail? A Decade Later. – North Carolina Orthopaedic Association Annual Meeting, Kiawah Island, South Carolina.
May 2016: The Dean's Award, University of Rochester Commencement – "Presented to a fourth-year medical student in recognition of excellent academic achievement and outstanding accomplishments in research."
February 2016: Inducted to Alpha Omega Alpha (AOA) Honor Medical Society.
July 2014 – June 2015: TL1 Clinical Research Training Award from the National Institutes of Health.
March 2015: New Investigator Recognition Award (NIRA) from the Orthopaedic Research Society (ORS). One of ten overall winners selected at the 2015 ORS annual meeting in Las Vegas, NV.
June 2011: Magna cum laude distinction from Williams College.
Geary MB, Gaston RG, Loeffler BJ. Surgical and Technological Advances in the Management of Upper Extremity Amputees. Bone Joint J. 2021 Mar; 103-B(3):430-439. doi: 10.1302/0301-620X.103B3.BJJ-2020.1184.R1. PMID 33641410
Barry J, Geary M, Riesgo A, Odum S, Fehring T, Springer B. Irrigation and Debridement with Chronic Antibiotic Suppression Is as Effective as 2-Stage Exchange in Revision Total Knee Arthroplasty with Extensive Instrumentation. J Bone Joint Surg Am. 2021 Jan 6; 103(1):53-63. doi: 10.2106/JBJS.20.00240. PMID 33079900
Geary MB, Li K, Chadderdon RC, Gaston RG. Complications Following Transosseous Repair of Zone 1 Flexor Tendon Injuries. Journal of Hand Surgery. 2020 Jul 25. doi: 10.1016/j/jhsa.2020.05.025. PMID: 32723570
Geary MB, Macknet D, Ransone M, Odum S, Springer BD. Why do Revision Total Knee Arthroplasties Fail? A Single-Center Review of 1,632 Revision Total Knees Comparing Historic and Modern Cohorts. J Arthroplasty. 2020 May 28. doi: 10.1016/j.arth.2020.05.050. PMID: 32561262
Hartzler MA, Li K, Geary MB, Odum SM, Springer BD. Complications in the Treatment of Periprosthetic Joint Infection. Bone Joint J. 2020 Jun;102-B(6_Supple_A):145-150. doi: 10.1302/0301-620X.102B6.BJJ-2019-1582.R1. PMID: 32475287
Martin JR, Geary MB, Ransone M, Macknet D, Fehring K, Fehring T. Is a Full Component Revision Necessary for Isolated Tibial Loosening? Bone Joint J. 2020 Jun;102-B(6_Supple_A):123-128. doi: 10.1302/0301-620X.102B6.BJJ-2019-1401.R1. PMID: 32475265
Daley D, Geary M, Gaston RG. Thumb Metacarpophalangeal Ulnar and Radial Collateral Ligament Injuries. Clin Sports Med. 2020 Apr; 39(2): 443-455. doi10.1016/j.csm.2019.12.003. PMID: 32115093
Akesson P, Chen AF, Deirmengian GK, Geary M, Quevedo MS, Sousa R, Springer BD, Wang Q. General Assembly, Prevention, Risk Mitigation, Local Factors: Proceedings of International Consensus on Orthopedic Infections. J Arthroplasty. 2018 Oct 22. doi: 10.1016/j.arth.2018.09.053. PMID 30360980.
Geary MB, Li H, Zingman A, Ketz J, Zuscik M, Bentley KL, Noble M, Elfar JC. Erythropoeitin accelerates functional recovery after moderate sciatic nerve crush injury. Muscle Nerve. 2017 Jul; 56(1):143-151. doi: 10.1002/mus.25459. PMID 28168703.
Ackerman JE, Geary MB, Orner CA, Bawany F, Loiselle AE. Obesity/Type II diabetes alters macrophage polarization resulting in a fibrotic tendon healing response. PLoS One. 2017 July 7;12(7):e0181127. PMID 28686669.
Zingman A, Li Hiayan, Sundem L, DeHority B, Geary M, Fussel T, Mooney R, Zuscik M, Elfar J. Shoulder arthritis secondary to rotator cuff tear: a reproducible murine model and histopathologic scoring system. J Orthop Res. 2016 Aug 8. [Epub ahead of print] doi: 10.1002/jor.23383. PMID: 27500994.
Orner CA, Geary MB, Hammert WC, O'Keefe RJ, Loiselle AE. Low-Dose and Short-Duration Matrix Metalloproteinase 9 Inhibition Does Not Affect Adhesion Formation During Murine Flexor Tendon Healing. Plast Reconstr Surg. 2016 Mar; 137(3):545e-53e. doi: 10.1097/01.prs.0000475823.01907.53.
PMID: 26910699.
Bessette MC, Kenney RJ, Geary MB, Cook C, Giordano BD. A Novel Iliotibial Band and Gluteus Maximus Tenodesis for the Treatment of External Coxa Saltans in a Patient with Ehlers-Danlos Syndrome. J Hip Preserv Surg. 2015 October; 2(3):316-317. doi: 10.1093/jhps/hnv050. PMID: 27011855.
Geary MB, Orner CA, Bawany F, Awad H, Hammert WC, O'Keefe RJ, Loiselle AE. Systemic EP4 Inhibition Increases Adhesion Formation in a Murine Model of Flexor Tendon Repair. PLoS ONE. 2015 August. 10(8):e0136351. doi:10.1371/journal.pone.0136351. PMID: 26312751.
Geary MB, Elfar JC. Rotator Cuff Tears in the Elderly Patients. Geriatr Orthop Surg Rehabil. 2015 September; 6(3):220-224. doi: 10.1177/2151458515583895. PMID: 26328240
Jain R, Garg P, Motukupally SR, Geary MB. Clinico-Microbiological Review of Non-Contact-Lens-Associated Acanthamoeba Keratitis. Semin Ophthalmol. 2015 July; 30(4):281-288. doi:10.3109/08820538.2013.849270. PMID: 24251436.
Loiselle AE, Yukata K, Geary MB, Kondabolu SK, Shi S, Jonason J, Awad HA, O'Keefe RJ. Development of
Antisense Oligonucleotide (ASO) Technology Against Tgf- Signaling to Prevent Scarring During Flexor Tendon Repair. J Orthop Res. 2015 May; 33(6):859-866. doi:10.1002/jor.22890. PMID: 25761254.
Geary MB, English C, Yassen Z, Stanbury S, Awad H, Elfar JC. Flexor Digitorum Superficialis Repair Outside the A2 Pulley After Zone II Laceration: Gliding and Bowstringing. J Hand Surg Am. 2015 April; 40(4):653-659. doi: 10.1016/j.jhsa.2014.12.045. PMID: 25721237.