When we work together, a house becomes a home.
Since 2012, OrthoCarolina has helped provide a home-away-from-home for families of sick or injured children through our support of Ronald McDonald House of Charlotte.

In celebration of RMH of Charlotte's 10th anniversary in 2021, we're proud to announce Team OC raised more than $16,000 in this year's annual Sport a Shirt, Share a Night campaign. That's nearly four months of overnight stays for RMH families!
"Even after a challenging year, Team OC stepped up to make sure families in need of a home away from home are taken care of at Ronald McDonald House. Together we made a big impact through the 10th Anniversary 2021 campaign, and I am so proud to be a part of this company. There's truly, 'No Place Like Home!'"
- Jenni Knighten, Director, Organizational Culture & Engagement
Team OC earned second place for companies raising the most money in this year's campaign. Thank you to every team member who helped make it possible. Together, we're keeping families close when they need it most.
---
2021 Campaign RESULTS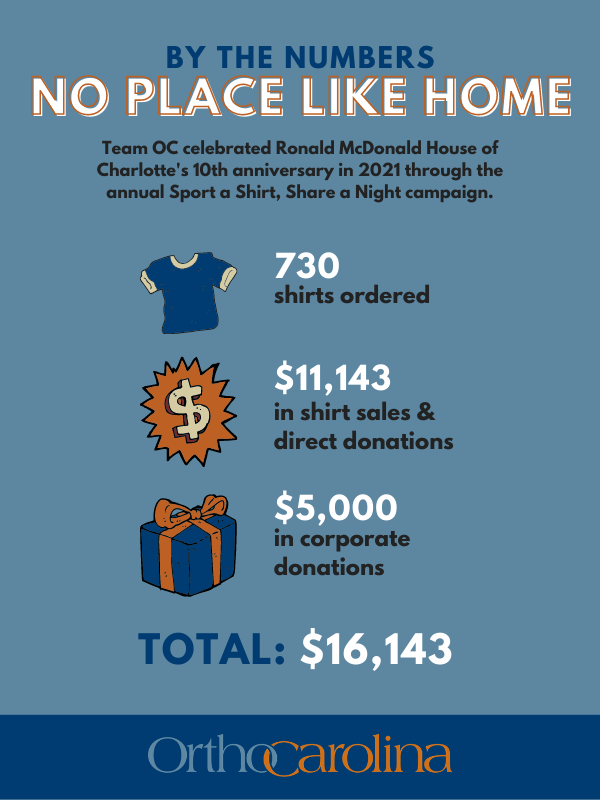 ---
About Ronald McDonald House of Charlotte
Ronald McDonald House of Charlotte provides a safe, affordable and caring "home-away-from-home" for the families of children receiving treatment in area medical facilities.
Families are stronger when they are together, and this is never more important than when a child is sick or injured. By offering families a haven less than one mile from our partner hospitals, we increase their ability to spend more time with their child, interact with their clinical care team and participate in critical medical decisions.
---
Back