My desire to teach was inspired by many things... But most of all, I loved what group fitness did for me personally and I wanted to return the favor. It taught me resilience, perseverance, patience, focus, leadership, attention to detail, teamwork. I wanted to be an advocate in my community for living a healthy, active life and after all of my experience being in front of people (high school theater and film class), I dove headfirst into teaching while in college. I loved what group fitness brought to the table; comradery, encouragement, competition, instruction, a positive environment, upbeat music, accountability, to name a few.
Now that I have been teaching group fitness for nearly nine years, my teaching style has certainly evolved and has been inspired by my own personal experiences, different uses of equipment, an abundant amount of reading, and other influential health leaders.
The biggest change is that I am currently not at a place where I am able to teach in a studio; a huge challenge that I am trying to take on with grace. It was very hard for me to let go of my stereo, headset, and shiny wood floors once my son was born. I love being in front of people. I love creatively putting together new workouts, leading a group, calling out safety cues, addressing form, hearing everyone bitch and moan after a hard leg set, the smell of sweat, loud music... I love it all. Bring it on.
I am now teaching from behind a camera, through text in emailed workouts to clients and over the phone. On occasion, I work out with local friends and neighbors early in the mornings. This does not pay my bills; it is a labor of love and Time that I treasure. When you love something, you give freely.
Another big change is that I am learning to teach people how to NOT rely on the gym or group fitness classes and instead to work out at home. Informing health enthusiasts just how little equipment you need to create a workout that can really push you and help you achieve your goals. That does not mean that I don't still LOVE group workouts... Just that I cannot do them these days and I fully recognize that many individuals (moms in particular) have a hard time leaving children at home to get in a workout.
All that said. My how my "job" is changing!
Nearly nine years as a group fitness instructor in a studio
Many years on the streets as an informal marathon/triathlon coach
Now teaching from behind a camera how to workout at home.
I will not be stopped!! I am surrounded by people that have been a big part of my journey that keep me motivated.
Why do I love teaching so much? We were only given one body. It is our machine. If we want to live to our utmost, ready to conquer all that life has in store, we must properly fuel and maintain this beautiful, perfectly designed machine. But where do you get a how-to guide? After my son was born, deer in headlights. there is no instruction manual on how to be a mother. Same applies to fitness. We don't get a book when we are born on how to take care of our bodies. There is so much [conflicting] information out there and we have to kind of figure it out as we go.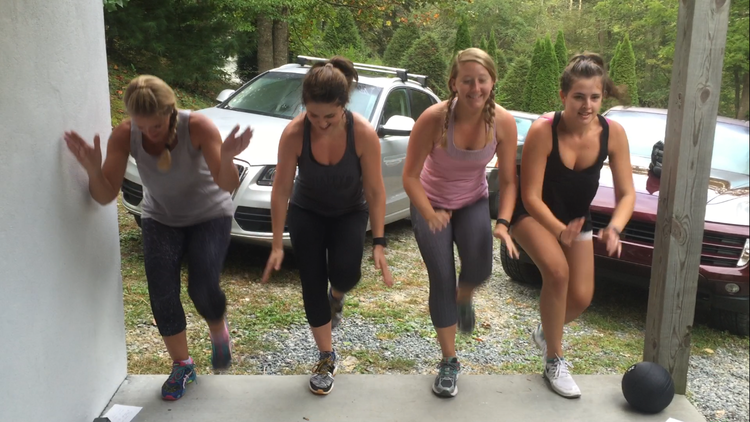 I love to inspire. I love to educate. I love meeting people where they are and working with them to achieve their goals. I do this every day in my job in finance. Everyone has a different story and different goals. I love watching people meet and crush their goals. I am not the type of instructor that is going to put you in front of something that you cannot do and I will not leave you for dead. You will not grow if that is your current fitness environment. You will likely be injured from poor form, you will feel defeated and you will not see progress. I am also not going to pussy foot around. Everyone needs to be challenged to some degree to reach their goals... or they wouldn't be goals, now would they? Work hard, doing something that you enjoy.
Ivey Gaskin Baker, CFP® is the business development manager for a family owned asset management firm. She has spent nine years teaching group fitness part-time in various studios across North Carolina from Appalachian State University to YMCA Charlotte. Through Ivey Baker Fitness, she is now advocating wellness using various channels outside of the studio, teaching individuals how to exercise with minimal equipment out of their homes. https://www.iveybakerfitness.com/
---
Back