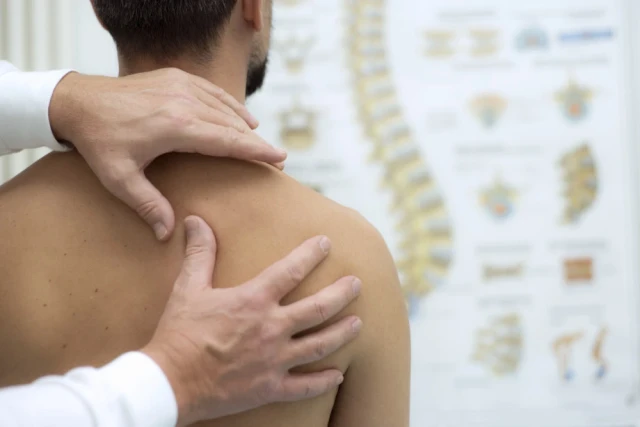 What is Frozen Shoulder?
Adhesive capsulitis, more commonly known as Frozen Shoulder, is frequently treated in the physical therapy setting due to the pain and loss of upper extremity function that can occur as a result of the development of the pathology.
Risk Factors for Frozen Shoulder
The cause of adhesive capsulitis is still unknown, but researchers have found that certain populations typically develop frozen shoulder more than others:
People who are 40-65 years old

Occurs in females more than males

People with Thyroid Disease

People with Diabetes

Those who have already experienced frozen shoulder in the opposite shoulder
Symptoms of Frozen Shoulder
Adhesive capsulitis typically takes 12-18 months to resolve. There are four stages that occur after the onset of symptoms:
Stage One
Pre-adhesive stage: Patients typically present with symptoms similar to rotator cuff impingement. At this stage, patients can be misdiagnosed with rotator cuff tendonitis or impingement. Often when we see these types of patients in therapy following the diagnosis of impingement, but we find that their shoulder may start to freeze after the initiation of PT. It is important for our patients to communicate their symptoms to us so we can modify our treatment strategy in order to address their adhesive capsulitis as well as refer them back to their physician to discuss the benefits of potentially getting a cortisone injection in order to maximize a patient's outcomes and manage their symptoms. Studies have found that intra-articular corticosteroid injections combined with stretching and mobility exercises can provide more relief and function in the first 4-6 weeks compared to stretching and mobility exercises alone.
Stage Two
Acute adhesive stage, or the "freezing" stage: Patient's symptoms are typically worsening at this point and will begin having more severe pain at end ranges of motion with more significant losses of motion. Patients in this phase begin having significant trouble with their activities of daily living including bathing, dressing, and reaching tasks.
stage three
Fibrotic or "frozen" stage: At this stage in the disease, the pain decreases, but the shoulder remains very stiff and restricted. This is due to the decreased inflammation in the shoulder with more mature adhesions in the shoulder capsule.
stage four
Thawing stage: During this stage, the patient will still be stiff, but will have no pain. As the adhesions in the capsule begin to remodel, the patient will slowly regain their motion.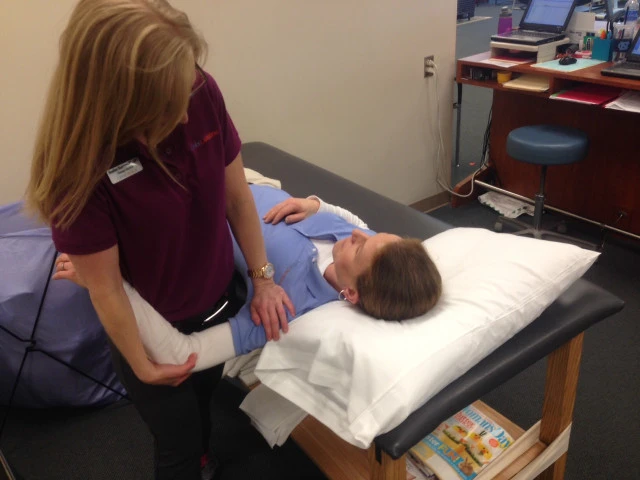 ---
Heather Harrison, PT, DPT received her BA in Exercise and Sports Science from UNC-Chapel Hill in 2004 and her doctorate in Physical Therapy from Duke University in 2007. Licensed as a physical therapist for eight years, she has worked in a variety of settings including outpatient orthopedics, outpatient neurological rehabilitation and home health. She is based at OrthoCarolina Huntersville's physical therapy office.
This article was originally published on April 21, 2015, and has been updated on February 13, 2020.

---
Back