When August temperatures soar, it's time to get your students ready for back-to-school! One of the most important supplies they'll need is their backpack. The backpack serves not only as a stylish accessory, but also as the main transporter for books, homework, or maybe even a laptop. An ill-fitting backpack can lead to many problems, including forward head and/or forward leaning, neck pain, shoulder pain, or back pain caused by unwanted stress on the spine.
The following tips are based on recommendations from the American Physical Therapy Association (APTA) and American Academy of Pediatrics (AAP) to achieve the best fit in a backpack:
Get the proper size backpack for the student.The height of your student's backpack should fit from the shoulder height (where the straps rest on the shoulders) to two inches past the waistline (or the belly button). The width of the backpack should rest equally between the shoulder blades and not extend wider than the student's trunk.
Look for wide, padded shoulder straps and a padded back.Regardless of size or shape, all backpacks should have two shoulder straps. Although "sling" backpacks are made, using only one strap can lead to an imbalance of weight distribution, irritating the shoulder and neck musculature.
Don't forget the extra straps! A waist strap helps to evenly distribute the weight across the shoulders and pelvis. It also serves as an added stabilizer if your student has to jog (or run!) to catch the bus. A chest strap helps to prevent slouching.
Look for backpacks with multiple compartments.These allow the backpack to be organized more efficiently. The goal is to pack items as flat as possible with heavier items in the bottom. Multiple compartments also keep electronics safe from dangerous water bottles or crumbly snacks.
Don't overload the backpack! Clean it out regularly to remove excess weight, and use a separate bag for after-school activities. The American Physical Therapy Association offers the following weight guidelines:
60-pound student should not carry more than five pounds

60-75 pound student can carry five to 10 pounds

100-pound student can carry 15 pounds

125-pound student can carry 18 pounds

150-pound student can carry 20 pounds

200-pound student can carry 25 pounds.
No one should carry more than 25 pounds regardless of bodyweight.
Other helpful tips to remember:
Bend using both knees. Avoid bending at the waist when wearing or lifting a heavy backpack.

Stand tall when using the backpack! If your student has to lean forward to compensate for the weight of the backpack, it is too heavy or is not adjusted appropriately.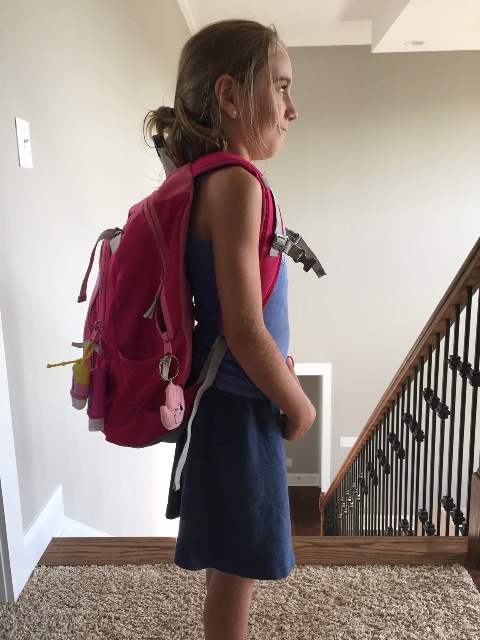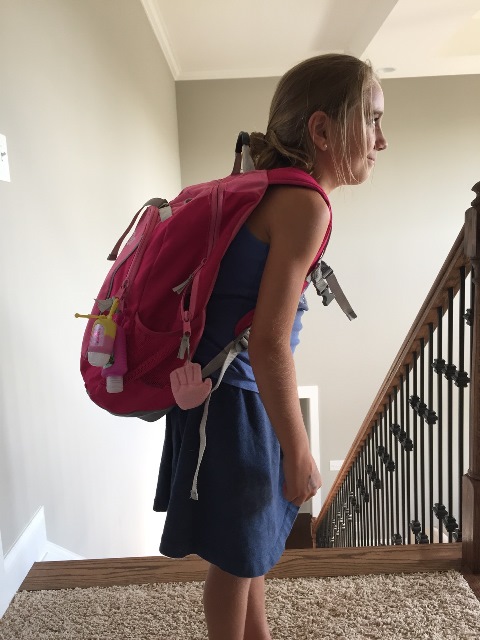 For more information about proper backpack fit or to address problems or injuries your student has from carrying backpacks, contact your local OrthoCarolina Physical Therapy Clinic.
Andrea Johnson, PT, DPT, OCS, ATC, is a physical therapist with OrthoCarolina Huntersville. She is a board certified Orthopedic Clinical Specialist by the American Board of Physical Therapy Specialists. She is also a nationally certified and state licensed athletic trainer.
---
Back