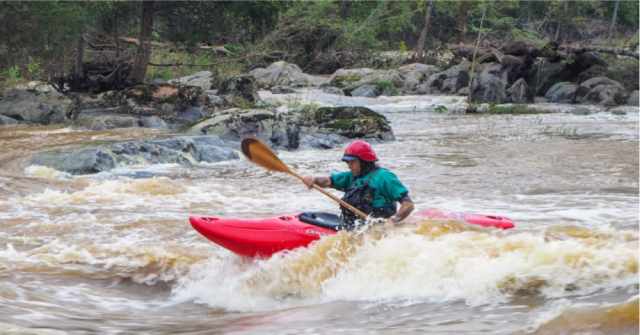 Written by Ann Gibson for Matcha in partnership with OrthoCarolina
There was a time when taking a swim in the Haw River would leave you tinged in colored dyes that flowed from the textile mills that lined its banks. In fact, the rocky waterway about an hour east of Winston-Salem was so polluted that many thought the damage was irreversible.
Over a decade of advocacy from a grassroots coalition of local academic, government, and nonprofit organizations has turned an environmental nightmare into one of the most vibrant recreation corridors in the Southeast. The Haw River Paddle Trail runs for 40 miles across the North Carolina Triad from Haw River State Park to Jordan Lake State Recreation Area. Fourteen public access points, campgrounds, and a 17-mile riverside hiking trail have turned the river into a top day-trip and weekend destination for outdoor adventure.
The Haw is almost like two rivers in one. Put in at one of the upper launches for a beginner paddle on gentle flatwater. At the lower trail launches, the faster current, rock outcroppings, and Class I-III rapids are made for intermediate boaters. There's a kayak trip for beginners, experts, and everyone in between in our guide to kayaking the Haw River.
Paddling Brooks Bridge to Saxapahaw Lake
On the upper sections of the Haw, dams built during the river's industrial era stall fast-flowing water to create pond-like sections for flatwater paddling. Put in above Saxapahaw Lake for a novice trip that's best suited for anyone getting on the water for the first time or working on skills and building confidence.
For your first time out, kayak the easy mile between Indian Valley and Great Bend Park Access or the two-mile stretch from Great Alamance Creek Access to Swepsonville River Park. A longer beginner trip starts at the Swepsonville Lower Access for a 5.5-mile paddle downstream to Saxapahaw Lake. The best novice paddling when water levels are low can be found on the four-mile stretch of river from Shallow Ford Natural Area to Indian Valley.
---
Back
© 2023 OrthoCarolina. All Rights Reserved.