Kayaking the Haw River Paddle Trail
Written by Ann Gibson for Matcha in partnership with OrthoCarolina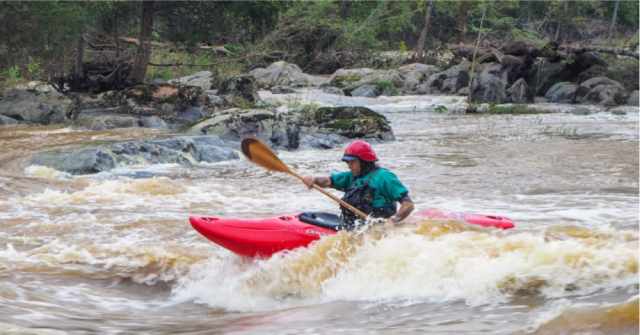 There was a time when taking a swim in the Haw River would leave you tinged in colored dyes that flowed from the textile mills that lined its banks. In fact, the rocky waterway about an hour east of Winston-Salem was so polluted that many thought the damage was irreversible.
Over a decade of advocacy from a grassroots coalition of local academic, government, and nonprofit organizations has turned an environmental nightmare into one of the most vibrant recreation corridors in the Southeast. The Haw River Paddle Trail runs for 40 miles across the North Carolina Triad from Haw River State Park to Jordan Lake State Recreation Area. Fourteen public access points, campgrounds, and a 17-mile riverside hiking trail have turned the river into a top day-trip and weekend destination for outdoor adventure.
The Haw is almost like two rivers in one. Put in at one of the upper launches for a beginner paddle on gentle flatwater. At the lower trail launches, the faster current, rock outcroppings, and Class I-III rapids are made for intermediate boaters. There's a kayak trip for beginners, experts, and everyone in between in our guide to kayaking the Haw River.
Paddling Brooks Bridge to Saxapahaw Lake
On the upper sections of the Haw, dams built during the river's industrial era stall fast-flowing water to create pond-like sections for flatwater paddling. Put in above Saxapahaw Lake for a novice trip that's best suited for anyone getting on the water for the first time or working on skills and building confidence.
For your first time out, kayak the easy mile between Indian Valley and Great Bend Park Access or the two-mile stretch from Great Alamance Creek Access to Swepsonville River Park. A longer beginner trip starts at the Swepsonville Lower Access for a 5.5-mile paddle downstream to Saxapahaw Lake. The best novice paddling when water levels are low can be found on the four-mile stretch of river from Shallow Ford Natural Area to Indian Valley.
Paddling Saxapahaw to Union Bridge
The playful whitewater below Saxapahaw is a dramatic contrast to flatwater sections to the north. High water levels can turn Class I-II riffles into frothing Class III rapids, so check online river gauges for current conditions before you get on the water.
The 5.5-mile run from Saxapahaw Mill Race Access to Union Bridge has long stretches of Class I-II rapids with short float sections for relief. For a full day on the water, put in at Saxapahaw Mill Race to paddle 12 miles to the access at Highway 501-15 and the last rapids before entering Jordan Lake. Both trips take you through more remote terrain than you'll find on upper sections of the river. Cormorants, egrets, and bald eagles are commonly seen from the trail.
Guided Paddling Trips
Not quite ready to paddle solo? There are plenty of local outfitters prepared to provide instruction, supply gear, and guide you on the water. Choose from whitewater adventure paddles, sunset and full moon flatwater outings, and fishing excursions.
Riverside Camping
Paddling into camp to spend the night beside the river and under the stars is one of the best ways to experience the Haw River. There are two options for overnight camping on the paddle trail.
The primitive campsites at Shallow Ford Natural Area are accessible by boat or car and can be reserved for groups of up to 10. There are also two camping platforms, accessible by boat only, on Spirit Island about a mile downstream from Swepsonville River Park. Island access is managed by The Haw River Canoe & Kayak Company, which offers beginner-friendly, guided overnight paddle trips that include tent set-up, dinner, and breakfast.
Hiking on the Haw
The perfect complement to your Haw River paddle trip is a hike on the Haw River Land Trail. Part of North Carolina's cross-state Mountains-to-Sea Trail, it covers 17 miles along the river between Indian Valley Access and the Longmeadow Trailhead upstream from Swepsonville River Park. Hike the full distance or start at one of four trailheads along the route for an easy half-mile to four-mile trek.
You can hike another five miles of wetland trails and boardwalks in Haw River State Park at the north end of the paddle trail above Shallow Ford. At the southern end of the river below Union Bridge, you'll find more camping and 14 miles of trails around Jordan Lake, a state recreation area and 14,000-acre reservoir near Raleigh. There's drive-in camping at five campgrounds, seven swimming beaches, and one of the largest summer populations of bald eagles in the country.
Trail Towns
On the river, you'll feel like you're miles from civilization. But, paddlers who prefer a bed to a sleeping bag will find plenty of the city amenities in textile towns that are reinventing themselves for the outdoor adventure crowd.
Start your day with fresh-roasted coffee and pastries overlooking the Haw River at Cup 22 in Saxapahaw, or fill up on lemon ricotta hotcakes and orange brioche French toast at Small B&B Cafe in downtown Pittsboro.
After your day on the river, grab dinner at The Eddy Pub, a bar and restaurant housed in a former mill in Saxapahaw, or at Reverence Farms Cafe, a sustainable family farm in Graham. When it's time to turn in, treat yourself to some B&B pampering at The Acorn Inn near Elon University, or River Landing Inn, which is a short walk from Benjamin Vineyards and Winery in Graham.
---
Leave a Comment