Strength training is so often ignored by females. Weights, and I mean heavier weights, need to be incorporated into your workouts if you're a woman (I have a mom and three older sisters, and yes, I would tell them the same thing). Those heavier weights not only help your body better counteract physical stress and demands of life, but the added muscle growth makes your muscles and bones stronger, keeps your central nervous system functioning well and so much more.
Women are often stereotyped as being into running, yoga and other cardio-heavy workouts, but here are some reasons I think weight training for females is so important:
Injury Prevention
I see a lot of ACL tears in women. Women who are stronger or focus some of their workout on strength tend to experience less catastrophic injuries like the ACL tear. Another problem we see is patella femoral pain, or kneecap pain. That issue can come from muscle imbalances, underlying malalignment and weakness in the quads.
Helps with Aging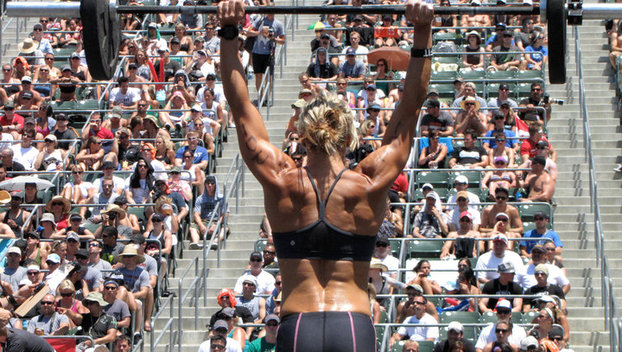 Muscle mass diminishes as you age, so if you don't do anything to replace that lean muscle, you risk gaining fat as you get older. Strength training can help you replace muscle, burn calories more efficiently and continue to build bone, reducing your risk of osteoporosis.
Real-Life Benefits
Women can have weakness and pain in their shoulders, causing instability. This also means they have discomfort when picking up children, groceries and more. All of this can happen as a result of weak shoulders. Functional movements like those we do in CrossFit help you practice a broad range of fitness skills so that you can be physically ready to handle the demands you face every day, as well as unexpected challenges.
I get asked often if it's okay for women to do CrossFit. Every person is different and will find different workouts to their liking. However, CrossFit can incorporate a strength program which may have been ignored. It excels at being functional fitness: picking up a baby is like deadlifting, sprinting can be like crossing the street, lifting groceries is like pressing. Workouts can be challenging, but don't have to be competitive, and the scalability element means that everyone can give it a try to see if that type of workout works for them. There's a difference between discomfort, which is part of exercise, and real pain.
Aaron Hewitt PA-C is a Physician Assistant with OrthoCarolina's Sports Medicine Center. He is a former Assistant Athletic Trainer with the Minnesota Vikings (NFL), and is an orthopedic provider for UNC-Charlotte and Myers Park High School. He also is a Physician Assistant Team Lead for Sports Medicine, Spine, Hand & Pediatrics and a Clinical and Surgical Preceptor for Physician Students. In addition to CrossFit, Aaron is dedicated to running, yoga and clean eating.
---
Back