Physical therapists use a variety of techniques to treat pain and conditions that inhibit a patient's movement. One of those techniques, dry needling, utilizes a solid filament needle inserted into the muscle.
How does dry needling work? Here are six things to know.
---
1. Dry Needling vs Acupuncture
Acupuncture is based in Eastern medicine and focuses on the flow of Qi, or energy, along meridians for the treatment of diseases.
Dry needling is a Western approach to treating pain and dysfunction in musculoskeletal conditions and serves as a reset button, breaking the pain cycle by resolving trigger points.
---
2. Dry needling can be used to treat a variety of conditions
Any patient who has pain and/or movement dysfunction due to a musculoskeletal condition can use dry needling to reduce pain. This includes any muscle where a trigger point is located, chronic pain, lumbar pain, neck pain, shoulder pain, headaches/migraines, whiplash and plantar fasciitis.
Once a therapist deems a patient appropriate for dry needling, a prescription is obtained and the patient signs a consent form.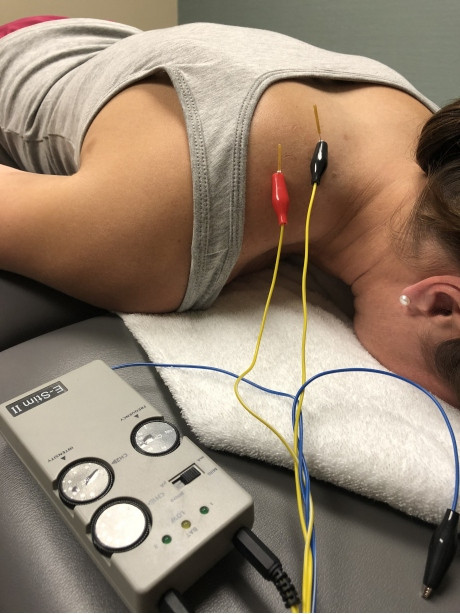 ---
3. Each patient receives personalized treatment
Treatment is personalized for each patient and can include a warm-up, dry needling, stretching and/or activation of the muscle to promote normal length (extensibility) and restore normal contraction and control of the muscle.
---
4. The needles are targeted at trigger points
The patient starts by being placed in a comfortable, safe position that exposes the affected area. The therapist first wipes the skin with alcohol to clean the surface layer, then palpates (examines by touch) the affected area for tenderness and/or palpable trigger points, which are taut hyper-contracted nodules/bands within muscle tissue.
---
5. You may not even feel it
Needles are inserted and manipulated and removed or left in for a period of time. The patient may feel the needle enter the skin, but sometimes it is not felt at all depending on the patient and the location of the needle.
The needle elicits a local twitch response followed by the relaxation of the muscle. There may be a cramping, aching sensation or slight discomfort that lasts a few seconds. Electrical stimulation can be applied to the needles to bring even more blood flow to the tissues and relax the muscle tissue.
---
6. Pain relief may come after just one session
Some patients report 50 percent pain relief after just one session, while others find relief after multiple sessions.
---
What's Next?
Ready to find a personalized solution to your pain? Find an OrthoCarolina location near you.
---
This article was originally written on August 28, 2018, and updated on October 21, 2021.
Comments
---
Back