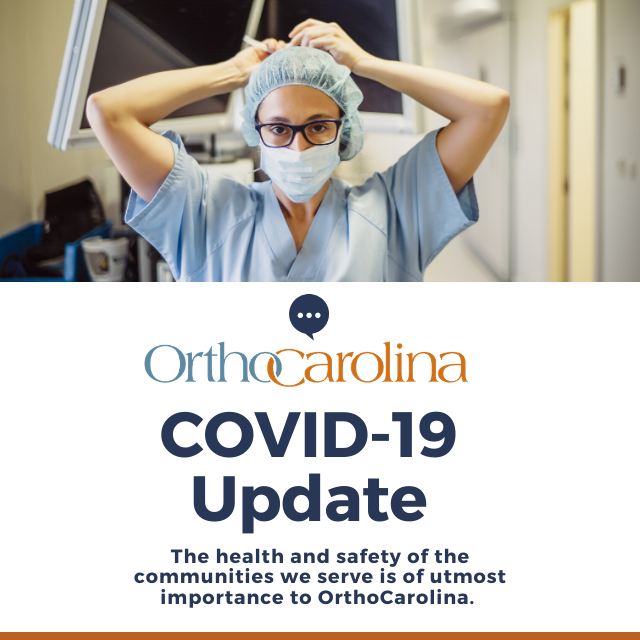 In an effort to meet the orthopedic needs in our community, OrthoCarolina began increasing access to our clinics on Monday, May 4, 2020. As an essential business, the decision to increase access to care is based on careful consideration and understanding of the needs of the orthopedic and physical therapy patients in the communities we serve. We understand that orthopedic conditions are not put on hold during a pandemic, and we appreciate your patience as we navigate solutions to provide the same world-class care you've come to know in the safest way possible.

As we begin to welcome more patients back into our clinics, safety remains our top priority. As you prepare for your upcoming appointment, know that OrthoCarolina continues to implement rigorous disinfecting measures between visits in all of our clinics. We have taken the necessary steps to ensure compliance with social distancing recommendations throughout each patient visit. Although your appointment may look different, you can rest easy knowing you are still receiving the same, unmatched orthopedic and physical therapy care.

To provide the safest environment for our patients and providers, we have implemented the following measures:
Both providers and patients are required to wear a mask or face covering over their nose and mouth prior to entering an OrthoCarolina facility
Additional screening questions when scheduling
Screening checkpoints and temperature checks for patients, caregivers, and staff before entering the clinic
Limited to only one (1) essential caretaker per patient (parent of a minor OR those requiring mental or physical assistance), a mask is required.
Reducing the volume of patients seen at each clinic
Reconfiguring waiting rooms and check-in/out areas to comply with social-distancing guidelines
Providing telemedicine and video visits for patients

We commit to improving the lives of all we serve, by providing premier patient care and compassionate, personalized service.

---
The Centers for Disease Control recommends that you reschedule your appointment if you have any of these symptoms:

Fever
Cough
Shortness of breath
Should the need arise, please contact our office and we will work with you to reschedule your upcoming appointment.
---
Seek Medical Advice if you:
Develop Symptoms
Have been in close contact with a person known to have coronavirus
If you live in or have recently been in an area with an ongoing spread of coronavirus
---
Resources:
For More information: CDC.GOV/COVID19-SYMPTOMS
NC Coronavirus hotline – 866-462-3821
SC Centers for Disease Control – 800-232-4636
---
More From Blogs & News
Comments
Leave a Comment