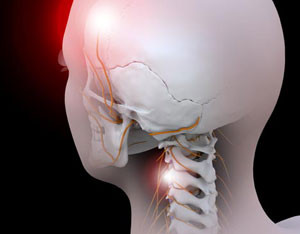 Most of us have had a headache before and know that they are…well, a headache.
They're a prevalent part of our daily lives, but headaches are also medical problems that affect our quality of life. Something people don't always realize is that there are many different types of headaches. For example, migraines that are triggered by a certain food source may only be manageable by removing that food source. But to start the proper course of treatment, it's important to get an accurate diagnosis of the type of headache that is ailing you.
Physical therapy can assist in the treatment of some types of headaches, including a very specific type called a cervicogenic headache. Cervicogenic headaches are also referred to as secondary headaches, meaning that its root cause is another illness or physical issue. Symptoms of cervicogenic headaches can include neck pain and stiffness as well as pain in the head that can be accompanied by pain in the face. The pain from this specific type of headache will usually stay on one side of the neck, head, and face (due to the dysfunction in the spine occurring on one side) but it is still possible for the pain to shift to the other side.
Cervicogenic headaches are classified as headaches that happen due to musculoskeletal disorders of the cervical spine, specifically the upper 3 cervical vertebrae. They are often caused by inflammation or mechanical dysfunction of the upper cervical joints, ligaments, or muscles. That pain and dysfunction stems from the nerves entering and exiting the upper cervical spine carrying information and stimulus to the head.
How can physical therapists help? PTs, specifically certified orthopedic manual therapists, are equipped with the necessary skills to properly diagnose cervicogenic headaches. This proper diagnosis is critical in assuring the right course of treatment for the headache. A manual therapist is also trained in the specific treatment of cervicogenic headaches focusing on upper cervical spine mobilizations (a treatment first described by Geoffrey Maitland in his book Maitland's Vertebral Manipulation 6th ed.)
Physical therapy interventions, or treatments, for cervicogenic headaches include spinal mobilization or manipulation, therapeutic exercise, and postural modification. Often a combination of treatments produces the best results in reducing and eliminating cervicogenic headache symptoms.
Jeff Deguire, PT, COMT is a Physical Therapist and Clinical Specialist I and Maitland Australian trained Certified Orthopedic Manual Therapist at OrthoCarolina's Eastover physical therapy office. Jeff became certified by Maitland Australian Physiotherapy Seminars in 2013.
More From Fitness & Training
Leave a Comment