Dr. Pat Connor
The commotion and action on the sidelines on any given Carolina Panthers game day can make it difficult to spot Dr. Pat Connor, but he's there. The uncertainty of what he will need to manage in a day's work means that he tunes out the excitement, clamor and score of the game to focus on the players. As team physician for the Panthers for 17 years, Dr. Connor works closely with Dr. Nancy Gritter and Dr. Rob Heyer, of Atrium Health to care for the Panthers throughout the season, playoffs and post-season.
---
Dr. Connor, why are there so many different doctors for the team?
It's important for any NFL team to have a team with specialized medical providers. Drs. Heyer, Gritter and I serve as the core, but we have a whole team of medical providers with whom we work. For example, for concussion-related injuries and other head trauma we rely on Carolina Neurosurgery & Spine Associates and Drs. Petty and Adamson who are on the sidelines with us every game, and have been as many years as I've been doing this. We also work very closely with Carolinas Healthcare System and the athletic training staff for the Panthers, so it's definitely a team sport from the medical side.
---
How do you work with the Panthers' athletic trainers?
Working in tandem with the athletic training staff is so important. We're there to take care of the major injuries but also to work with the trainers and combine our judgment to decide what to do. If someone has an ankle injury, for instance, we check to make sure there's no bony injury or gross instability of the ankle or that it won't buckle. Sometimes the player might have just sprained the ankle to where the athletic trainers can "beef it up" with tape, giving it additional support, and the player can get back out and play. The key to returning to play with any injury is being able to do so safely. For us to make that call for the players it takes judgment, experience and working together with all the medical providers we have on the sideline.
---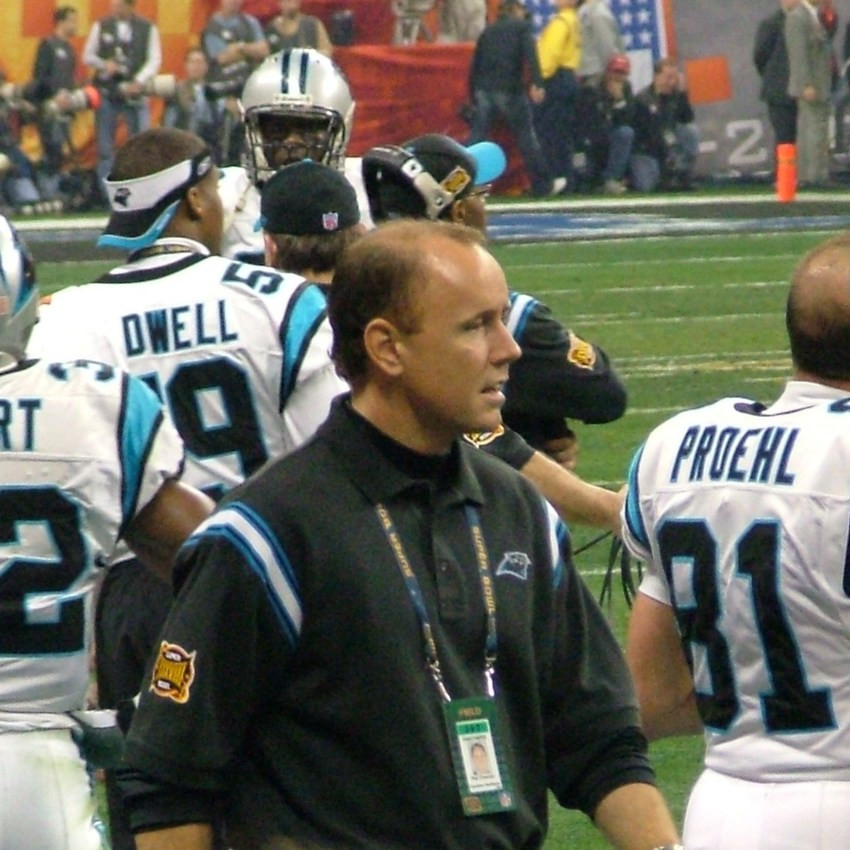 ---
Do you see a high rate of injuries during games?
We are on the sideline because it takes only seconds for a player to sustain a substantial acute injury that needs help right then and there. We've had to set broken legs on the field, players who have broken a jaw in a game, and much more. The amount and types of injuries that have happened over the years has really evolved. Some types of injures we have seen more of and some we have seen less of. The frequency of other injuries has remained pretty constant, but the evaluation, treatment and management of them has been ever-evolving.
---
What is something people might not know about professional football?
People say football is a contact sport, but it's really a collision sport. There are super amounts of physical energy that go into player injuries. What may be a routine ankle sprain for a weekend warrior can be much more severe and have significantly worse impact on a pro football, player simply because of the amount of force that goes into it.
---
What is your overall goal for taking care of the team?

Our core team has tried to create an atmosphere where the players come first and we really focus on trying to do the best thing for them both short and long term, working with their athletic trainers and our own to orchestrate rehabilitation and care. The team approach is what makes the overall program so fluid and strong with the changing needs of the team; working together on all injuries whether big or small.
---
Dr. Patrick Connor is an orthopedic surgeon with OrthoCarolina's Sports Medicine Center and also serves as the head team physician for the Carolina Panthers, Charlotte Knights minor league baseball team and Joe Gibbs Racing. He was named a Top Doctor in 2014 by the Charlotte Business Journal and Charlotte Magazine. Dr. Connor specializes in arthroscopic and reconstructive knee surgery, shoulder care and shoulder surgery. He has also served as president of the NFL Physician's Society and a member of American Academy of Orthopaedic Surgeons, and published research in journals such as the Journal of Shoulder and Elbow Surgery. He received his medical degree from the Oklahoma College of Medicine and completed his residency at Atrium Health - Carolinas Medical Center. He also completed a fellowship in shoulder surgery at Columbia-Presbyterian Medical Center in New York City.
---
Originally published November 23, 2014 and updated August 31, 2018

Comments
---
Back