How we avoid injury and stay in the race.
by Kyle Power
Rear Tire Changer; #9 STANLEY Ford Fusion Richard Petty Motorsports
Our schedule during racing season is long and grueling. Our team and guys get beat up and injured throughout the season. When you do what we do, that is naturally going to happen. OrthoCarolina's Motorsports program works great for us because it keeps us in the race. Angela [Sneed, ATC] takes great care of us; not only the sore and tight muscles, but she treats our major injuries too. Our pit crew teams have to keep our starters in the race because they are the best, and the performance of the team relies heavily on them.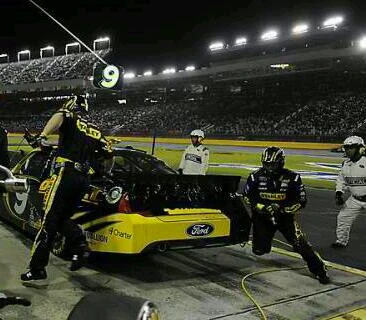 Once at Martinsville, our front tire carrier was clipped by another car coming in for a pit stop and hurt his ankle. Angela was there in no time treating him and making sure he was okay. Two pit stops later he got hit again. Angela treated him, fixed him up, and kept him in the race. We had some of the best pit stops we have ever had that day, and our car finished in the top 5. There is no telling what might have happened if we would have put a backup carrier in. She continued to treat our front tire carrier to make sure he recovered properly, and he never missed a race that season.
---
OrthoCarolina's motorsports team takes care of crew and drivers during the long NASCAR season. The care they provide runs the spectrum from injury diagnosis, care, pre- and post-op treatment, to physical therapy and more. Whether on the track, in the pit or at an OrthoCarolina office, their job is to help keep drivers and teams healthy and aid in injury recovery. During May look for some of the inspiring comeback stories from our motorsports patients.
---
Back