Dr. Julie Woodside has had to use her hands her entire life.
A former NCAA college basketball player at Oglethorpe University, she and her husband spend much of their free time running, mountain biking, skiing, swimming and playing with their German Shepherd. Also a pediatric hand surgeon who recently completed her training at Loyola University Medical Center and Shriners Hospital for Children Chicago, she understands that capacity to experience life at its best can truly rest in the palm of one's hand.
In May 2016, Dr. Woodside along with a hand surgeon from Miami and hand therapist from California traveled to Ho Chi Minh City, Vietnam to spend a week with a Vietnam-based orthopedic group in a pediatric-only hospital. They traveled through ReSurge International, a California-based group that provides reconstructive surgical care for poor children and adults who lack access to healthcare and builds surgical capacity in developing countries. While the orthopedic surgeons in Vietnam are highly educated they tend to not have training in hand deformities, particularly complex surgeries needed for baby hands.
"My time there was more like a visiting professorship," says Dr. Woodside. "Vietnamese surgeons are very well-trained and practice evidence-based medicine, which they are proud of. Part of our visit was passing on the skills and knowledge they needed to do some of the more complicated procedures."
On their first day in Vietnam, Dr. Woodside's group saw 15 young pediatric patients for hand issues and deformities. Throughout the week they performed surgeries ranging from syndactyly to cleft hands and even created thumbs from index fingers for children born without thumbs. Because the children had never had the proper surgeries for their conditions, the group was performing surgeries on children age six, seven and eight years old that should have been done when they were 12 months. The surgical team operated for about 12 hours each day; from 8:00 AM until 8:00 PM.
"The families of the patients were so accepting of us and thankful that we were there to take care of their kids," says Dr. Woodside.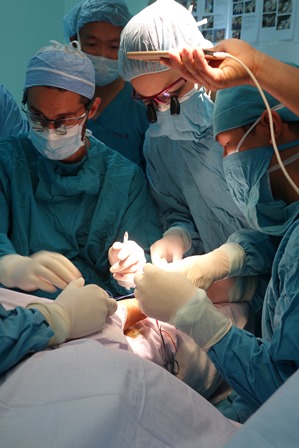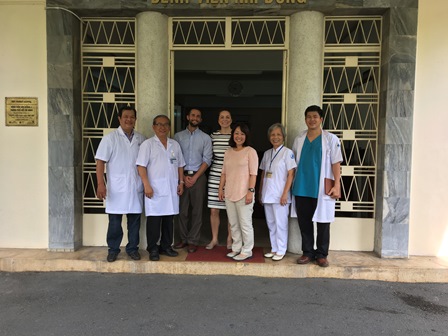 Dr. Julie Woodside is based at OrthoCarolina Gastonia. Her training focuses heavily on both adult and pediatric/congenital hand surgery. Her interests are adult hand and elbow surgery including nerve compression (carpal tunnel syndrome and cubital tunnel syndrome), trauma, tendonitis, trigger fingers, Dupuytren's contracture, arthritis, sports injuries as well as pediatric orthopedic hand surgery, congenital upper extremity and birth defects, cerebral palsy, and tetraplegia. She has completed extensive research on congenital conditions of the hand
Comments
---
Back