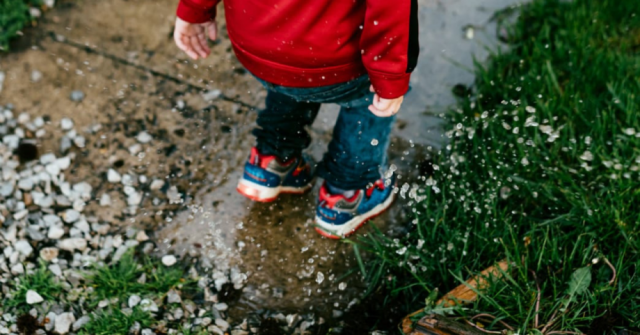 Written by Ann Gibson for Matcha in partnership with OrthoCarolina
It happens all too often. Parents plan a family hike, load the kids, backpacks, snacks, and trusty canine into the car and drive to the trailhead only to discover that the path is too long or strenuous for kids to manage. Excitement turns into a meltdown in a heartbeat, leaving everyone disappointed and a little less eager to fall in line when parents are ready to try again.
Getting your kids outdoors is important, not just for exercise and uninterrupted family time, but also for the documented health benefits like reduced risk of ADHD, obesity, and diabetes. Spending time in nature also teaches your kids to love the outdoors and be good stewards of our planet. So, the next time you're getting outside with the kids, plan a day on a TRACK Trail for an adventure that's easy to plan, educational, and challenging in all the right ways.
Designed for Beginners
TRACK Trails are part of the North Carolina Kids in Parks Program, a network of more than 100 parks across the state offering self-guided adventures geared toward families with young kids and those who are new to outdoor activities. Trail distances and activities are designed for elementary-age children, but they can be adapted for preschoolers and older kids who have never spent much time outdoors.
An interactive map shows Kids in Parks sites, with pop-up descriptions of parks and specific activities, like hiking, biking, disc golf, and citizen science. You can use filters to find places with the amenities your family needs, like ADA accessibility and parks where pets are welcome.
Getting Started
To get started with the program, you'll need to create a free online account to log your experiences in an online nature journal. Older kids can set up an account for themselves, while parents with little ones can set their children up under one family account. Either way, family members will be able to track their own adventures. The online journal tallies up activities, miles hiked, and the progress you've made toward earning prizes.
Deciding Where to Go
You can choose a park for your adventure based on the park's distance from your home, whether there are amenities like camping, a visitor center or snack bar, and whether the park includes specific TRACK Trail adventures. The detailed park description contains maps, directions, photos, and a list of other trails in the area.
As you're looking at various TRACK Trail activities, you'll be able to see the trail length and difficulty, plus a description of the activities you can accomplish on your hike. Also, you can download a brochure to use as your guide. Most parks offer several adventures so you can come back to the same park multiple times.
Tracking Your Progress
Once you're back home, the kids can log in to their nature journal to answer simple questions about the experience (no right or wrong answers here) and earn outdoor gear and prizes. Fill out the journal as a family to talk over what you learned and where you want to go in the future.
Earning Prizes
Kids in Parks offers extra incentive to get outside with rewards in the form of outdoor gear that can make the next adventure even better. Earn stickers for each TRACK Trail experience, along with bandanas, magnifying glasses, and walking stick medallions for visiting more parks. Kids also earn virtual medals and different prizes for completing biking and disc golf TRACK Trails.
Tips for Parents
Sometimes it's not just the kids who are nature novices. If you're one of those parents who hasn't spent a lot of time in the outdoors, check out the trip tips designed to keep the momentum going. Safety and fun are top priorities, and you'll find helpful advice like starting with short hikes that leave kids wanting more and seeing the experience through their eyes. They may be more interested in walking a half-mile to watch a centipede crawl up a tree trunk than hiking five miles without a break.
Advice includes basic Leave No Trace practices, like staying on the trail to avoid dangers like poison ivy and snakes and leaving the landscape just the way you found it. Set an example yourself by being respectful of wildlife, allowing plenty of space for animals to roam freely without seeing you as a threat, and leaving animal homes undisturbed.
Taking It on the Road
Participation numbers show that the program is getting families outside in big numbers. So far, kids have logged more than 410,000 collective miles on TRACK Trails and spent a total of 200,000 hours unplugged and in nature through the program. Kids in Parks has been so successful that the program is expanding across the country as far west as San Diego and as far north as South Dakota. Now you can add a dose of the outdoors to your next family vacation with stops at TRACK Trails along your route.
Experiences are as diverse as the destinations where they're located. Learn about monuments and statues in our nation's capital on the 1.5-mile TRACK Trail around the White House in Washington D.C. and hunt for bugs on the 2.4-mile TRACK Trail in the swamps of Congaree National Park in South Carolina. Watch for buffalo, elk, and bighorn sheep on the 0.6-mile TRACK Trail outside Jackson, Wyo., and explore the ecosystem along the historic C&O Canal in Maryland. Some TRACK Trail sites even host guided hikes, so check the calendar before you travel.
Written by Ann Gibson for Matcha in partnership with OrthoCarolina.
---
Back