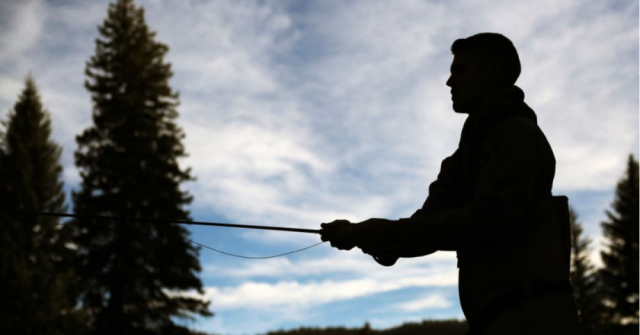 Written by Ann Gibson for Matcha in partnership with OrthoCarolina
There's something about seeing a wader-clad angler standing thigh-deep in a rushing mountain stream that makes you think you'd like to give fly fishing a try. Maybe it's the graceful arc of the cast or the thoughtful placement of the lure. Or the challenge of fighting the current and beauty of standing in the middle of a river gorge with forested peaks all around.
Part sport and part art, fly fishing can seem mysterious and intimidating, even if you've been bait fishing for years. But don't let that stop you from giving it a try. It's a great workout, takes strategy and practice, and lets you experience the wilderness in a whole new way. Get on the water with our guide to fly fishing in the Blue Ridge Mountains.
Guide Services
The quickest way to get up to speed on fly fishing terminology and technique is to hire a guide to take you out on the water. "A guide shortens the learning curve," says Kyle Burnette, owner of Southern Drifters Outfitters, an outdoor clothing retailer and guide service in Burnsville at the northern edge of Pisgah National Forest. "People are always intimidated by fly fishing, but it doesn't need to be that way."
Burnette grew up in Burnsville and has been fishing area streams for over 15 years. "It can take several trips to get the hang of it. You really just need to listen to your guide's instructions," he says. "A guided trip isn't a guarantee you'll be successful, but it's one of the best ways to practice. Casting is different for each individual and once you get it, a light bulb goes off."
Burnette and his staff of three to four local guides have been taking anglers out on the water for three years and lead 60 to 70 trips during the peak summer season. They typically only take small groups of two to three people at a time for individualized instruction and provide everything you need, including gear, snacks, and meals on longer trips.
Delayed Harvest Streams
"We have an abundance of trout streams within 30 minutes of Burnsville," says Burnette. "We plan trips based on what type of experience the client is looking for. If you want to catch a lot of fish, we go the delayed harvest route. Catching eight- to 12-inch trout is typical in our region, but a lot of the brown, brook, and rainbow trout we catch are over 20 inches."
Delayed harvest streams are stocked in early fall for the catch and release season that runs from October to June. For novices, experts, and anyone in between, this is the best time to practice your technique without the pressure that comes with spring and summer crowds. The best times are early spring in April and May and in October.
For people who want to take fish home, Burnette recommends booking a trip during the summer catch-and-keep season. "For novice anglers who want to catch more fish, July through September is the time to go," he says. For ease of catching fish, Burnette's top delayed harvest waters are the North Toe River, Cane Creek in Bakersville, and the hatchery-supported section of the Cane River.
Wild Waters
If you have some fly-fishing experience and you're looking for a secluded location to get away from the crowds, take a guided trip on the South Toe River. "The South Toe is really in the middle of nowhere," says Burnette. "You get back in the little headwater streams where the fish are biting, and it's so much more scenic than fishing close to town."
April through June are peak months due to increased insect hatches and activity, but western North Carolina's wild trout streams are year-round fisheries. "The winter fishing is good unless it's super cold and the streams freeze over," says Burnette. "All through the summer, the terrestrial fishing with hoppers and beetles is consistently good too."
Float Trips
If fighting the current in a pair of waders isn't for you, Southern Drifters can take you out in a drift boat instead. A float trip on the South Holston or Watauga Rivers in eastern Tennessee gets you out on a bigger river that, in some ways, is a better trout habitat than mountain streams further east. "The dam-release rivers stay at a fairly constant temperature," says Burnette. "That creates more consistent conditions for insects. A more consistent food source means more consistent fishing." Fly fishing from a drift boat also lets you get farther away from crowds and see more of the river.
Trout Towns
Burnsville is one of several mountain towns in western North Carolina, all with access to pristine waterways, in-town guide services, and a craft brewery or two for refreshments after your trip. Start in the town of Sylva for a wade fishing or float trip on the Tuckasegee River. Sylva is also the hub for 15 fly fishing destinations on the NC Fly Fishing Trail.
Brevard is another favorite for anglers, located near the Davidson River, Looking Glass Creek, and the French Broad River. The Tuckasegee runs right through downtown Bryson City, with more fly fishing outside town on the Nantahala, Little Tennessee, and Oconaluftee rivers. For a truly remote experience, head west to Hazel, Eagle, and Deep Creeks in Great Smoky Mountains National Park.
Written by Ann Gibson for Matcha in partnership with OrthoCarolina.
Comments
---
Back