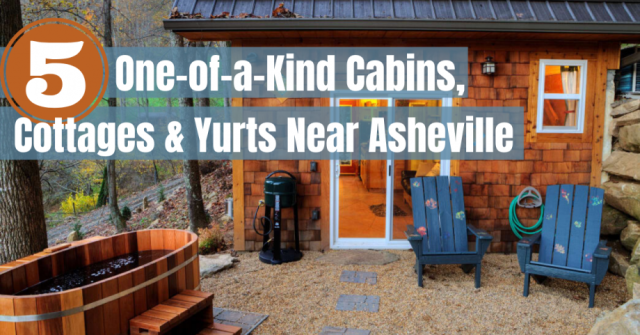 Chilly days, chillier nights and rain showers may deter you from planning a camping trip, but there's no reason to stay at home. Whether you're visiting from out of town or a local just looking to change up the scenery, a host of cozy cabins, charming cottages, and even yurts can help you create that perfect weekend in the wilderness. Spend the night in a restored barn on a working farm, in a rustic cabin on a private island, or relaxing on the side of a mountain with a view of the city spread out below you. Here are five places to get away from it all.
1. East Fork Farm Cottages
Imagine yourself rising early, surrounded by farmland, mist rising off the pastures as you sip a cup of hot coffee out on the deck. As the sky brightens, you consider the day that lies ahead of you: Maybe you'll take a hike up to nearby Max Patch, a rolling meadow that many consider to be the most beautiful section in all the 2,168 miles of the Appalachian Trail. Or perhaps you'll find yourself navigating the bouncy, Class III rapids on Section 9 of the French Broad River. In the evening, you will return to your cabin for a soak the fragrant, Japanese-style cedar hot tub and an excellent night's sleep, submerged in the quiet of the countryside.
This will be your experience when you steal away to East Fork Farm for a couple days to unwind and recharge. The farm is family-owned and fully operational, located in the small mountain town of Marshall, NC, 25 miles outside of Asheville. There are three cottages on the premises: Meadow Branch is a quaint, cedar-shake getaway that is artfully furnished, with a view of the entire farm visible from the patio. The East Fork, cozy but modern, is an elegantly refurbished utility barn surrounded on three sides by meadows and grazing sheep. The uniquely charming Mill House is brand new addition to the farm, a small and creative two-story cabin complete with a working waterwheel and spacious patio.
As if pastoral serenity and quick access to wilderness isn't enough, your stay at East Fork Farm will include complimentary farm products: fresh eggs, stone-ground cornmeal, Highlander Farm jelly, Wild Mountain Apiaries honey, 4 ounces of Biltmore Coffee Traders coffee, and locally made soap.
2. Riverside Escapes
Book a stay at the Riverside Escapes and you won't just be reserving a private cabin for the weekend, you'll be reserving your own island. The rustic Americana Cabin is situated on the only privately owned island on the French Broad River , accessible by a 100-foot swinging bridge. Return to the simple delights in life by stepping off the river into an outdoor shower, cooking dinner over an open fire, and falling asleep inside a clean cabin, warmed by the glow of a wood stove.
If you're looking for something a bit more plush, a brand-new cabin directly overlooking the river features the Riverview Retreat on the first floor and Treetop Suite on the second. Each luxe hideout features private hot tubs, a fully stocked kitchen, and a washer/dryer, nestled in 3 acres of wooded property.
The cabins are located in Alexander, just 20 minutes outside downtown Asheville. This would be the ideal getaway for anyone seeking to spend a calming weekend on the water, SUPing, fishing, floating, or just kicking back with a beer on the front porch.
3. The Pines Cottages
Stand in Pack Square on a Friday night and you'll find yourself encompassed by small city revelry: The line from the French Broad Chocolate Company winds around the block, a string band plays boisterous bluegrass on the street corner, and tourists, college kids, artists, river guides and young professionals dart between breweries and file into the Orange Peel to catch a show.
It's hard to believe that from such a crowded and lively vantage point, a place as quiet and tranquil as The Pines Cottages lies only six miles away. These vintage cabins and studio cottages sit on 4.5 acres of enormous pines and tidy gardens, tucked away from the hustle and bustle of Asheville, but close enough to take full advantage of the city's nightlife and renowned culinary and craft-beer scene. Six of cottages feature wood burning fireplaces, and all of them are pet-friendly.
Board games are available for checkout, as are guide books if you're hoping to venture into the Blue Ridge Mountains and hop on some of the country's most beautiful hiking trails.
4. Bittersweet Cottage and Suite
Perched on the slopes of Elk Mountain, the Bittersweet Cottage and Suite make for an ideal romantic retreat. The cottage features a cozy and inviting interior, with warm light, custom wood paneling and a glass block bath. The suite was designed with an Asian influence, soothing and clean with a fully stocked luxury kitchen. This modern mountain oasis is truly out of the ordinary. Both cottage and suite are impeccably decorated and offer an unparalleled view of city lights sparkling between rolling Appalachian peaks.
In fact, such a dazzling view might inspire you to spend the whole weekend wandering through town, immersing yourself in Asheville's abundance of art and culture. If that's the case, check out these in-town adventures. Work up an appetite and get a taste of the outdoor activities for which Asheville is famous, without even leaving the city limits.
5. Wildwater Yurt Village at Nantahala
Within the steep canyon walls of the Nantahala Gorge lie some of the most wild and pristine wilderness in the south. Whether you're riding the ribbony trails at Tsali , zip-lining through the canopy or whitewater rafting with the Nantahala Outdoor Center , you will never exhaust the opportunities for exploration and adventure found here.
For an experience that's off the beaten path—but directly on the hiking trails—reserve one of the eight coveted Yurts at Wildwater Village. These elegant domed structures of insulated canvas and exposed framing are where rugged meets boutique, creating a unique experience that will appeal to campers and hotel aficionados alike. The yurts come complete with a queen bed, folding double futon, mini fridge, ceiling fan and space heater. Communal charcoal grills and a separate bathhouse with four private bathrooms (including private showers and sinks) are just down the path.
The Yurt Village is perched above Lake Fontana on 22 acres of mountain wilderness. Hiking trails wind from the property into the Nantahala Forest, a robust half a million acres of hardwoods studded with waterfalls and scenic overlooks atop exposed cliffs. With all that wildness at your fingertips, coupled with the plush comforts of the yurts, you may find yourself booking next year's retreat to the Nantahala before you even pack up.
Written by Melina Coogan for RootsRated and legally licensed through the Matcha publisher network. Please direct all licensing questions to legal@getmatcha.com.
---
Back