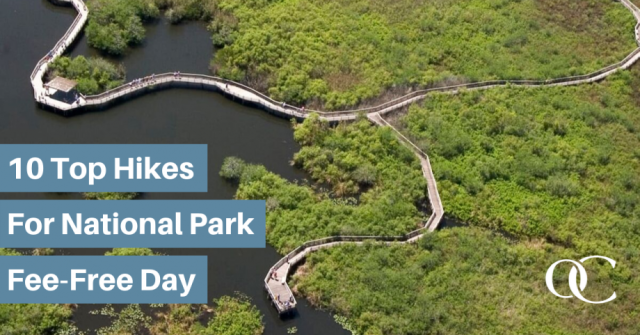 There are five days during the year when America's most stunning natural landscapes and treasured historic sites are free to anyone who can make the trip. These national park fee-free days are incentive to reconnect with family and friends in nature or tackle a trail you've never hiked before. They can also serve as a way to teach kids that taking care of America's wild spaces is as important as brushing your teeth and getting good grades.
Mark your calendar for the following days: Martin Luther King's Birthday on January 21, the first day of National Park Week in April, the National Park Service Birthday on August 25, National Public Lands Day on September 28, and Veterans Day on November 11. These fee-free days offer opportunities to tour Civil War sites, stroll along the Atlantic coast, have an alligator encounter, or follow in the footsteps of thru-hikers on a section of the Appalachian Trail. Take your pick of these top hiking trails in national parks and seashores, national monuments, and historic sites all over the Southeastern U.S.
1. Loudon Heights Trail, West Virginia
A 3.5-mile climb leads to the Split Rock Overlook in Harpers Ferry National Historical Park and panoramic views of the confluence of the Potomac and Shenandoah rivers at the historic town of Harpers Ferry. Be prepared for a rocky and steep out-and-back trek totaling seven miles along a challenging stretch of the Appalachian Trail. Your reward is a bird's-eye view of the place where abolitionist John Brown led his pre-Civil War slave revolt.
2. Weston Lake Loop, South Carolina
Explore the cypress swamps of Congaree National Park on a beginner-to-intermediate trail that takes you past stands of cypress trees and through a dry cypress-tupelo slough. The 4.4-mile Weston Lake Loop Trail leads to excellent views of the lake. There's a good chance you'll catch a glimpse of the river otters, osprey, owls, and wood ducks that make their home in the park.
3. Anhinga Trail, Florida
A family-friendly hike in Everglades National Park packs in many of the park's highlights in less than a mile. Pick up the Anhinga Trail at the Royal Palm Visitor Center for a self-guided walk through alligator, turtle, anhinga (a large waterbird), heron, and egret territory. The sawgrass marsh is a bird watcher's paradise, especially in winter.
4. Dungeness Loop, Georgia
Look for armadillos, wild horses, and bald eagles on the 4.1-mile Dungeness Loop Trail at Cumberland Island National Seashore, where you can walk the maritime forest and wild outer beaches of Georgia's largest and southernmost barrier. Start at the ruins of a 19th-century Carnegie family mansion to follow the flat trail along Cumberland Sound and across the island to the Atlantic Ocean beach.
5. Sunset Trail, Arkansas
Follow the boundary of Hot Springs National Park for 12.4 miles to reach the most remote areas of a park nicknamed "Valley of Vapors" for the 143-degree hot springs percolating underground. The mostly flat Sunset Trail is rated beginner-to-intermediate due to its rocky terrain and distance. The great thing about this path is it takes you away from the crowds where you'll find beaver, heron, deer, and wild turkeys.
6. Grand Avenue Tour, Kentucky
Explore the geology and history of the world's longest cave system with a guided hike through the tunnels and caverns of Mammoth Cave National Park. Choose from tours ranging from short, easy, and ADA-accessible to caving expeditions where you'll crawl and climb by headlamp into some of the park's darkest recesses. For thrill-seekers, the four-mile Grand Avenue Tour travels gypsum-lined passageways, narrow canyons, and wide-open chambers lined with dripping rock formations. During your underground adventure, experts will share the cultural and geologic history of the cave.
7. Tuscarora-Overall Run Trail, Virginia
If you're looking for an overnight challenge, the 12- to 14-mile circuit to the highest waterfalls in Shenandoah National Park fits the bill. Start at Hogback Mountain around Skyline Drive milepost 21.1 to hike through mature forest to rocky outcroppings on Beecher Ridge and 93-foot Overall Run Falls. Several swimming holes offer a refreshing rest break in summer.
8. Alum Cave Trail, Tennessee
There is no entry fee for Great Smoky Mountains National Park; it's always free. So, lace up your hiking shoes and make the heart-pumping, 4.4-mile round-trip on the Alum Cave Trail. Beginning at Newfound Gap Road, you'll ascend past Arch Rock and other imposing geologic formations carved by the erosive forces of freezing and thawing water. For an even greater challenge, continue climbing to the summit of 6,594-foot Mount LeConte (the highest point in the park), adding five more miles to your out-and-back trek.
9. Cotton Mouth Trail, Alabama
An easy two-mile round-trip trek along the Little River in Little River Canyon National Preserve makes a perfect day trip for families with young children. Start at Canyon Mouth Park, where you'll find a shady picnic area with grills. Grab a picnic table and break for lunch after your hike to watch the kayakers paddling the Class I-II rapids.
10. Al Scheller Trail, Mississippi
Learn about the Civil War and sharpen your orienteering skills on the primitive, 12.5-mile Al Scheller Trail in Vicksburg National Military Park. Over 18 months, 48,000 soldiers died here while fighting for control of the lower Mississippi River. Hike the forests, streambeds, and steep ravines traveled by Union and Confederate forces at one of the most critical battlegrounds of the war.
Written by Ann Gibson for Matcha in partnership with OrthoCarolina.
---
Back