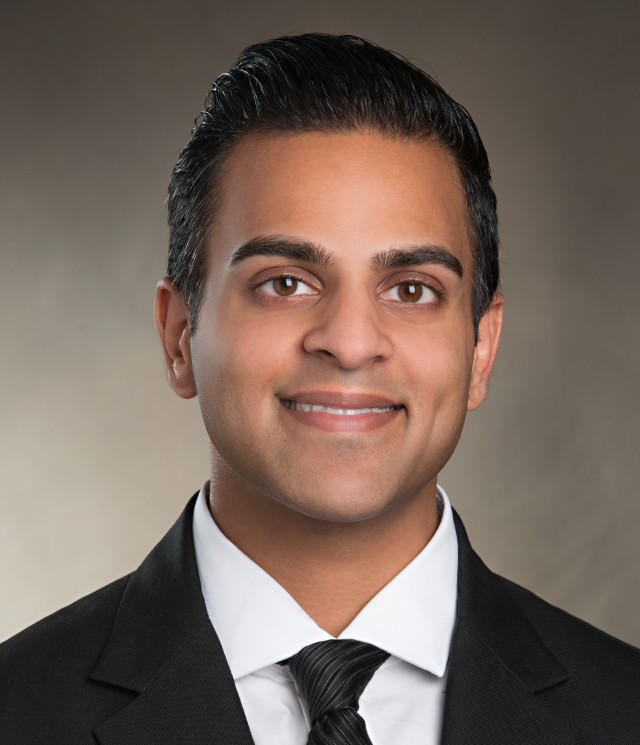 Specialties:
Physiatry
Fellowship Trained:
Physiatry
Biography
Dr. Parikh is a board-certified Physiatrist (physical medicine and rehabilitation specialist) and fellowship-trained in Interventional Spine medicine. His clinical practice centers on non-surgical treatments for spine and joint-related pain. Dr. Parikh is an expert in image-guided injections, radiofrequency ablation, and other minimally invasive interventions using state-of-the-art techniques to diagnose and treat spine and musculoskeletal conditions. Dr. Parikh has been with OrthoCarolina since 2013 and has performed over 50,000 image-guided procedures. He is the director of the Interventional Spine fellowship and provides advanced training and education to physicians.
In his spare time, Dr. Parikh enjoys spending time with his wife, kids, and dog. Dr. Parikh is a fitness enthusiast and enjoys employing different workouts to push his boundaries.
Loyola University - Bachelor of Science, Psychology
Nova Southeastern University, College of Osteopathic Medicine - Doctor of Osteopathic Medicine
University of Texas Southwestern - Residency in Physical Medicine & Rehabilitation
OrthoCarolina - Fellowship, Interventional Spine/Physiatry
Specializes in Physical Medicine & Rehabilitation
Specializes in interventional spine and non-surgical orthopedics
Fellowship Director - OrthoCarolina Interventional Spine/Physiatry Fellowship
Member of the Spine Intervention Society (SIS)
Member of the American Association of Physical Medicine & Rehabilitation (AAPM&R)
"Surgery prevention by transforaminal injection of epidural steroids for cervical radicular pain (SPIES): a randomized controlled trial." - Co--Principal Investigator, Research project, OrthoCarolina, Awarded OCRI Grant - 2014
CareCore Pain Management Policy Review, OrthoCarolina - 2014
"Cervical & Thoracic Zygapophyseal Joint Arthropathy." - Chapte rLead Author, AAPM&R - Knowledge Now1 - 2012
"An Unusual Presentation of Idiopathic Syringomyelia Diagnosed After Electrodiagnostics." - AAP Annual Meeting, AAPM&R Annual Meeting - 2012
"Rehab in Review" Journal - Contributing Editor - 2010-2012
Dr. Parikh is very capable and thorough. Never had an issue with any procedure.