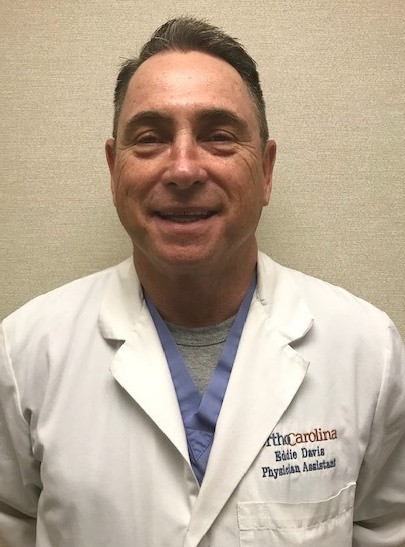 Rating aggregated from 412 patient reviews.
Hear What Patients Have to Say
I was very pleased with initial consultation with OrthoCarolina. I was seen promptly when I came in. My provider was Eddie Davis, and I appreciated his positive bedside manner. Additionally, he listened to my concerns about taking medication and met my apprehension with respect and sound knowledge. Based on my experience I would recommend OrthoCarolina.
- Charles D.
Locations
Education
University of Nebraska Omaha, NE -- Bachelor of Science
University of Nebraska Omaha, NE -- Physician Assistant Degree
University of Nebraska Omaha, NE -- MPAS, Orthopaedics
Practice
Specializing in Spine & General Orthopaedics
---
Physician Assistant Certified by National Commission on the Certification of Physician Assistants
Fellow member of American Academy of Physician Assistants (AAPA)
Fellow member of Physician Assistants in Orthopaedic Surgery (PAOS)
Fellow member of North Carolina Association of Physician Assistants (NCAPA)