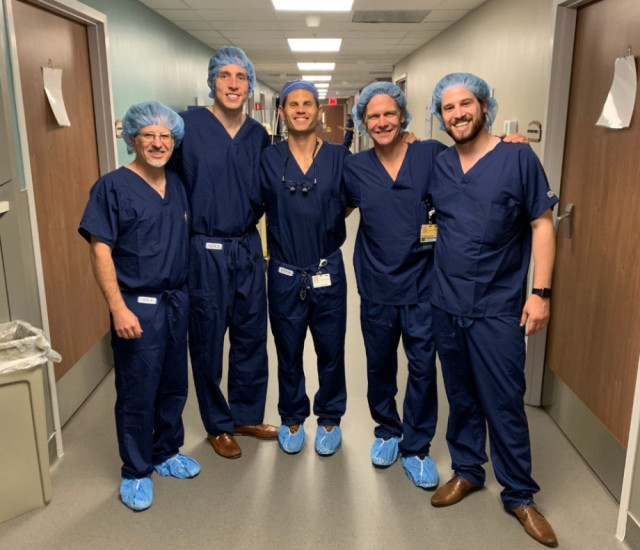 The fellowship experience in flap reconstruction begins with a paid microsurgery course at the Mayo Clinic in the first 1-2 months of fellowship. Fellows will also attend the ASSH flap course which is followed by a hands-on cadaver flap course where they are exposed to and instructed on flap design, harvest, and execution. These educational opportunities provide the framework for success and are supplemented with multiple lectures on soft tissue reconstruction throughout the year.
In terms of clinical experience, Drs. Ryan Garcia and Michael Gart provide soft tissue and vascularized bone reconstructions for all OrthoCarolina subspecialties (foot/ankle, adult reconstruction, spine, peds, etc). Additionally, they will provide the soft tissue reconstruction needs for the orthopedic trauma team at our Level 1 trauma center. The demand for soft tissue reconstruction in the extremity is growing at an exponential rate and currently averages 3 to 5 cases per week. Fellows will understand and will be exposed to all principles of the reconstruction ladder including free tissue transfers, perforator flaps, and pedicled flaps of all designs. Fellows will have further experience in the use of intra-operative angiography for soft tissue perfusion and post-operative monitoring of flaps.
The microsurgical experience begins with the aforementioned micro-course and is followed by a monthly micro lab which includes both synthetic vessel and live rat anastomoses. The groundwork in microsurgical skills is further augmented, at each fellow's discretion, with full access to a high-end operating room microscope and microsurgical instruments that are housed in our office and available anytime. Fellows, therefore, have unlimited access to further advance their skills and comfort level. Heading up the microsurgical training for the fellows is Drs. Ryan Garcia and Michael Gart whom both completed residencies in plastic surgery along with post-residency fellowships in hand surgery.
In terms of demonstrating microsurgical skills in the operating room, our group takes hand call at our regional Level 1 trauma center (Atrium Health - Carolinas Medical Center) which is not shared with plastic surgery. The fellows take one day of call during the week and one weekend of call per month. This allows not only for an excellent work-life balance but also does not sacrifice learning opportunities. Given that the exposure to replantation can be hit or miss, all fellows are notified of replant cases and are allowed to participate at their discretion. On average, our group performs 1 revascularization per week, 1 finger/thumb replant per month, and 1 major limb replant per year. More than half of our previous fellows perform replantation in their current practices.
The majority of the fellows' complex shoulder experience is during their time with Dr. Loeffler who is a associate member of the American Shoulder and Elbow Surgeons after having completed a shoulder and elbow fellowship at Rothman Institute as well as a hand fellowship at the Philadelphia Hand Center. His practice spans the breadth of arthroscopic and open shoulder surgery including Level 1 trauma fracture management, rotator cuff pathology, as well as primary and revision shoulder arthroplasty. In addition, our fellows get training in nerve and tendon transfers to restore the paralytic shoulder throughout the year with the brachial plexus team with procedures such as radial to axillary nerve transfers, lower trapezius to infraspinatus transfers, pedicled latissimus for deltoid reconstruction, and glenohumeral fusion. Given the elective rotations that we offer and traveling fellowship, fellows have ample opportunities for exposure to complex shoulder reconstruction, and many of our previous fellows' current practices include this.
Fellows here are exposed to the full breadth of elbow pathology and surgical management including advanced elbow arthroscopy, primary and revision total elbow arthroplasty, elbow trauma including ligament repair/reconstruction as well as complex fracture management as well as tendon transfers and soft tissue coverage about the elbow. All of our faculty performs elbow procedures and many tackle the most complex procedures. The diverse range also includes procedures such as Steindler flexorplasty, pedicled latissimus and free gracilis transfers for restoration of elbow flexion, deltoid and biceps transfers to restore elbow extension, as well as contracture releases for cerebral palsy and arthrogryposis.

We are fortunate to have a very busy brachial plexus clinic staffed by Drs. Gaston, Loeffler, and Lewis. This team treats both pediatric and adult brachial plexus injuries, along with complex peripheral nerve injuries, and patients with spinal cord injuries. This vast clinical and surgical experience provides exposure to every reconstructive procedure including nerve grafting, peripheral nerve transfers, intercostal transfers, free tissue transfers, pedicled muscle transfers, and shoulder tendon transfers. The brachial plexus clinic experience also includes the opportunity to observe electromyography performed in the clinic with an expert electromyographer and a monthly journal club.
Fellows at OrthoCarolina are fortunate to get broad exposure to congenital hand through one of the only private practice congenital hand clinics in the country. Our congenital hand and upper extremity clinic is held in our office monthly, and we have three faculty (Drs. Chadderdon, Woodside, and Waters) with a special interest in congenital hand patients who staff this clinic. This allows for a team approach that facilitates collaboration and brainstorming amongst surgeons, and also allows for monthly concentrated exposure to these unique cases for our fellows. Fellows, residents, and medical students attend this highly educational clinic and each individually assesses patients before all patients are evaluated and discussed by the group as a whole.
This clinic sees and treats the full spectrum of congenital upper limb disorders including radial longitudinal deficiency, cleft hand, complex syndactyly, amniotic band syndrome, and thumb hypoplasia. Surgical cases are also performed with a team approach for all bilateral or complex cases and the fellows are heavily involved in the vast majority of these cases. To augment the fellows' exposure to this subject matter, the staff present a monthly congenital hand lecture (as part of our morning didactic lecture series) as well as a monthly congenital hand journal club.
There are many special aspects of this program but three stand out as truly unique: 1. A well-organized, strong daily didactic exposure 2. A customizable program for each fellow to tailor the year to their needs through the four-month elective rotation and traveling fellowship 3. An enjoyable work-life balance with fun outside of work with staff.

The essence of our fellowship is to create an experience that maximizes education while minimizing non-educational burdens. This is reflected throughout the design of the fellowship from the intense didactic curriculum, to the call schedule, to the four months of elective time and perhaps most exemplified in the traveling fellowship. Each fellow is provided one week paid for a traveling fellowship anywhere in the world to focus on a particular area of their interest. This unique opportunity has included trips to Spain (with Dr. Garcia-Elias), Paris (with Dr. Oberlin), Brazil (with Dr. Bertelli), Canada (with Dr. King), St Louis (with Dr. Mackinnon), UK (with Dr. Hayton), and Coimbatore, India (with Dr. Sabapathy).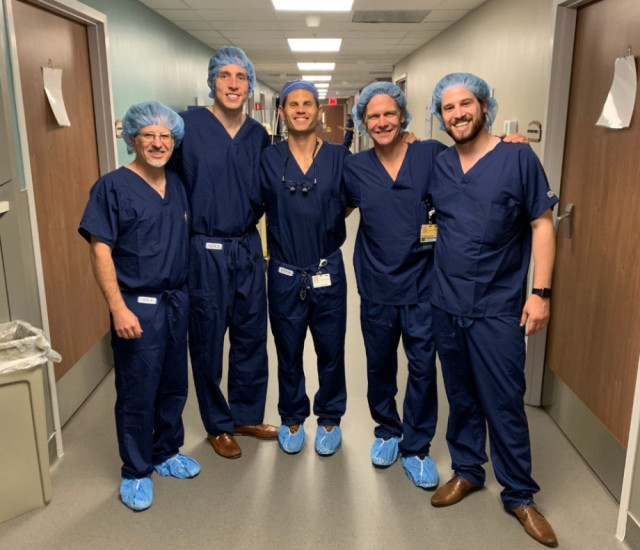 ---
Back