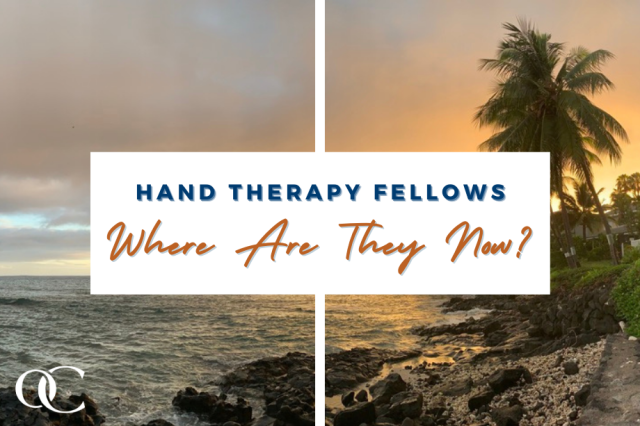 Hear from some of OrthoCarolina's Hand Therapy Fellows about their fellowship experiences and what came next in their careers.

---
Jackie Tamayo, MS, OTR/L, CHT
Occupational Therapist, Certified Hand Therapist
2016-2017 OrthoCarolina Hand Therapy Fellow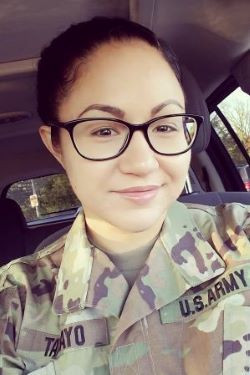 Tell us about your current role.
Currently, I am an active duty Occupational Therapist in the U.S. Army. I am Assistant Chief (transitioning to Chief in 2021) of the Occupational Therapy Department at Landstuhl Regional Medical Center in Rheinland-Pfalz, Germany.
As an OT and Certified Hand Therapist, my primary clinical duties include providing care and overseeing the outpatient orthopedic clinic and collaborating with referring providers including our resident hand surgeon. I also oversee OT services provided within the inpatient and behavioral health realms.
Since joining the Army, I have completed their 7H Neuromusculoskeletal Evaluator and Physician Extender course, gaining the additional skill identifier. The 7H program is the Army's way of preparing therapists to not only sit for the CHT exam, but also to order radiographs and other advanced imaging.
Already having had the fellowship experience and CHT credential allowed me to fast track the 7H course and gain the qualifier with much greater ease than if I had not had both prior.
How did your time as a fellow help you progress in your career?
Completing OrthoCarolina's Hand Therapy Fellowship program greatly prepared me for the Certified Hand Therapy exam. I passed the CHT exam on the first trial and what I learned at OC was the foundation for that. I gained tons of experience in a wide range of diagnoses often not seen at other upper extremity clinics.
My confidence in my clinical reasoning skills grew a lot during my time at OrthoCarolina. Having the fellowship on my resume has helped to separate me from my peers when applying for different opportunities. The confidence I now need to speak with physicians, other healthcare providers, and other Army professionals began growing the most during my time at OC.
When I initially applied for the Army, I applied for the Reserves component. One of the human resources officers saw my packet and took note of the completion of the fellowship and subsequent CHT qualification.
This prompted them to offer me the opportunity to apply for active duty and thus be eligible for loan repayment assistance. This was a huge opportunity that only a few are provided yearly. I attribute the OC fellowship to really helping me stand out and this was just one example of that.
What is most memorable about your time as a fellow?
My mentors and the relationships I gained during my time at OrthoCarolina were the most memorable part of my fellowship experience. The therapists I worked with and learned from are some of the most intelligent and thoughtful OT's I have worked with to date.
The physicians at the OrthoCarolina Hand Center are also still some of the more forward-thinking and attentive doctors I have observed and had the opportunity to collaborate with. Many of the relationships I gained from the front desk staff, scheduling, and the team from surrounding OC clinics helped to make my experience that much more enjoyable and memorable.
---
Ashley Coudron DeCo, MOT, OTR/L, CHT
Occupational Therapist, Certified Hand Therapist
2019-2020 OrthoCarolina Hand Therapy Fellow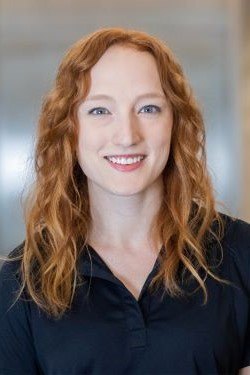 Tell us about your current role.
I am an Occupational/Hand Therapist at Hawaiian Rehabilitation in Kailua-Kona, HI, currently on a 6-month work contract through February 2021. Beyond that, wherever the wind blows me! I hope to travel around the country, perhaps even around the world, providing specialized OT care.
How did your time as a fellow help you progress in your career?
The OC hand therapy fellowship helped me build my skills to be a more confident and independent provider.
I worked in hand therapy for three years prior to my time at OrthoCarolina, but in a small clinic where I had tapped out my learning opportunities. OrthoCarolina gave me exposure and experiences with all facets of hand therapy, so that I could go out into the world and know that I can reason through any case, or successfully utilize resources to help any patient.
I don't know that I would have felt comfortable coming to my current Hawaii clinic, where I am the only OT hand therapist, had I not been at OrthoCarolina prior.

What is most memorable about your time as a fellow?
Within the fellowship itself, I definitely remember the early mornings of lectures, cadaver labs, and journal clubs. Those experiences are so unique to the OrthoCarolina Hand Therapy fellowship and I so appreciated the learning opportunities.
The most memorable moments, though, are those that happened outside of work. The times where we therapists would go hiking, kayaking, biking, etc. outside of work really made Team OC feel like family, and I do miss them dearly.
---
Pooja Desai
Occupational Therapist
2020-2021 OrthoCarolina Hand Therapy Fellow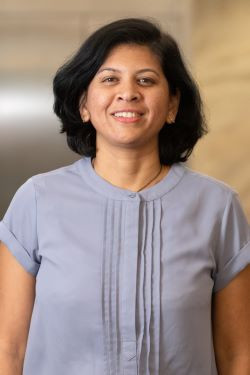 Tell us about your current role.
I am the current OrthoCarolina Hand Therapy Fellow, and I work at the Gastonia Physical Therapy office. My beginnings are best exemplified by the saying, "If you can imagine it you can achieve it. If you can dream it you can become it."
I studied in India and started practicing as an acute care therapist in 2004. I worked in all acute care settings including medicine, cardiac, neurology/neurosurgery and orthopedics. I loved orthopedics the most, and becoming a hand therapist became my goal.
Because Hand therapy is a very specialized area, I wanted experience working in all the other areas of Occupational Therapy, such as Inpatient Rehab, SNF and Day rehab. As I worked to expand my experience, I researched post-graduate programs that were focused on hand patients.
I applied to the OrthoCarolina Hand Therapy Fellowship and had the great honor of being selected as the Fellow for 2020.
How did your time as an OrthoCarolina Hand Fellow help you progress in your career?
The OrthoCarolina Hand Fellowship has given me the mentoring that I was looking for to advance and specialize in my practice of hand therapy. The evidence-based practice model that OrthoCarolina follows has taught me to find, understand and apply the latest research available for my patients.
Having great mentors from whom to learn and always having the ability to bounce ideas of them has increased my confidence in treating my patients.
What is most memorable about your time as an OrthoCarolina Hand Fellow?
There are many memorable moments I've had the privilege of experiencing as an OrthoCarolina Hand Therapy Fellow, but one particular moment stands out the most. My patient suffered from a fracture and required multiple surgeries over a one-year period. When she started therapy her hand was swollen, stiff and relatively unusable.
Given the distance from her home, her plan was to see me for three sessions and then transfer to a hand therapist closer to her home. After working with her, she decided to continue her care with OC. She was happy with the quality of care that our team provided her and felt it was worth the long commute.
Knowing that I had earned her trust with my clinical skills was one of many proud moments I've had as an OC Occupational Therapy Fellow. Her confidence in me is also a testimony to the quality of education that I was (and still am) receiving as a Fellow.
I will never forget the smile on her face when her hand looked normal for the first time and she had received compliments from her friends about how nice it looked. Moments like these remind me of why I chose this specialty.
In many instances, our hands make our first impression with others and when we lose their appearance and/or functionality, it can be a tremendous burden to overcome. Having the knowledge and experience to help these patients is as memorable as it is rewarding for me.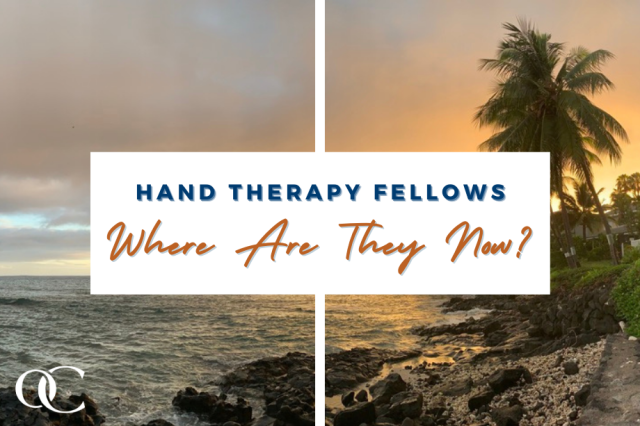 ---
Back