What is Perthes Disease?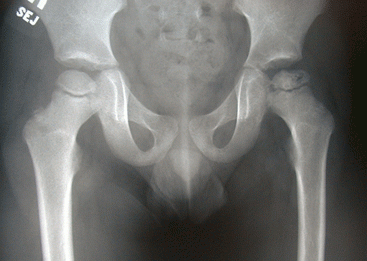 What is Perthes Disease?
Perthes disease is avascular necrosis of the proximal femur which is a fancy way of saying decreased blood supply to the femoral head.
There are several stages to Perthes:
The initial phase where the children may present with limping. Usually have minimal x-ray changes.
Stage 2 is the fragmentation stage which may last anywhere from 1 to 2 years.
Stage 3 is the healing stage which may last another 1-2 years.
Then the growing period.
We usually tell the parents to expect the disease to run its course over 2 years. Each child is different and your child may have a shorter or a longer course.
What happens over the 2 years is that the blood supply to the femoral head either partially or completely stops and the femoral head collapses. In most children the blood supply to the femoral head resumes and there is a re-ossification or new bone forming in the proximal femur.
What causes Perthes?
We don't know what causes Perthes. We do know that it is most common in young boys. Many of these children are hyperactive. Young girls can also get Perthes. It is most common in children under 6 years of age. What happens in Perthes is that the blood supply to the proximal femur is compromised. Then over a period of 1-2 years the blood supply returns.
Is this a problem?
Yes. The loss of blood supply causes the bone to die and over time the normal shape of the femoral head (ball) is changed. Depending on the severity of this change in shape, this can cause long term discomfort and limitations in range of motion and activities. Early arthritis can also develop in the hip.
What are the treatment options?
All treatment schemes with Perthes are based on the idea of containing the femoral head within the acetabulum. A good way to think of this is like an ice cream cone. When the femoral head is losing its blood supply it becomes very soft. When the blood supply returns we want the femoral head to reform in a good shape. If we're able to keep good range of motion of the hip and it's able to fit within the acetabulum then we hope it will give it a nice smooth shape like a normal ice cream cone.
The treatment of Perthes has been very controversial. Different authors have suggested treatment varying from no treatment at all to surgery on both the femur and the acetabulum for all children.
Fortunately, there is a Multi-Center study underway which includes patients from all over the world which is giving us new insight on how to treat Perthes.
We have found that children who have a bone age (which is often different than the chronologic age of your child) of 6 years or younger do as well with treatment with range of motion exercises, restriction of activities and non-steroidal medication as those who have surgery. So if your child has a bone age of under 6 years old and has relatively good motion we will probably treat them with range of motion exercises and with activity modification.
For those children with a bone age over 7 years old treatment with surgery has been shown to give children a better outcome than children who do not have surgery.
Perthes is extremely variable and there is no guarantee that any child will have a good result no matter what his treatment regimen is. However, we can increase the chances of your child doing well by treating the child with surgery or braces for those who are over the skeletal age of 6 and treating them with range of motion and activity modification for those that are 6 years and under.
FAQ about Perthes
What is going to happen to my child when they grow up?
Most children with Perthes are very functional. Some will have varying amounts of residual pain. A very small percentage, less than 1%, will have severe arthritis during their teenage years.
Long term natural history studies have shown that children who had Perthes 30 to 40 years ago are more likely to get a total hip replacement in their 50's than people who did not have Perthes. However, it is important to recognize that there may be many advances in medicine over the next 40 to 50 years.
We hope for the best radiographic (that is x-ray) result for your child. However, some children who have excellent looking x-rays are not doing as well as we would hope. There are also children that have x-rays which do not look as good but are actually doing very well and have no pain.
How do I care for a child with Perthes?
The goal of conservative treatment of a child with Perthes is to keep the range of motion of the affected hip as full as possible. There are several things which you can do to help your child with this.
No P.E. or organized activities.
When your child runs and plays in P.E. and other organized activities this often irritates the hip. A child who is in P.E. class or in organized sports is less likely to stop playing if he is sore because of peer pressure and not wanting to call attention to him or herself and so is more likely to cause more damage to their hip. Most young children who experience pain while they are playing by themselves or with their friends will just stop playing if their hip becomes too painful.

Therefore, we recommend that all children in the fragmentation or re-ossification stage of Perthes stop P.E. and organized sports.
Anti-inflammatory medicines.
We recommend the use of Advil and will give you the appropriate dosage for your child if you notice your child limping.

Frequently, children will not complain of pain but will just limp around the house. If you notice your child's limp increasing then we would advise treating them with Advil. Sometimes this will take regular dosing every eight hours for 2 to 3 days or sometimes even a week to decrease the inflammation.

If your child is taking Advil regularly for more than 3 to 4 weeks you need to let us know or your family doctor know so that we can check some labs to make sure they are not getting any side effects from the medication.

If the medication bothers your child's stomach or they complain of GI upset then stop using them.
What if the limp is severe and won't go away?
If your child's hip becomes very stiff and activity limitation and non-steroidal medications and exercises have not helped then bring your child in for evaluation. Occasionally we will admit these children to the hospital and put them in traction.
Another important part of Perthes is abduction exercises. We will give you a sheet so you can teach your child how to do these exercises. Encourage your child to do the exercises 1 to 2 times a day because they help with range of motion and help keep your child's hip moving well.
Please don't hesitate to call with any questions you may have at (704) 323-2543. I hope this handout has been helpful.
For more information: www.perthesdisease.org.
---
Leave a Comment