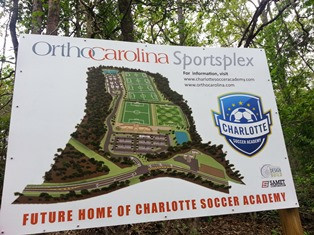 Charlotte Soccer Academy (CSA) will officially unveil its new $11 million state-of-the-art OrthoCarolina Sportsplex Sunday, July 26 at a ceremony and celebration for players and their families that highlights the history and roots of the club. Over the past 10 years CSA has grown to become the largest competitive youth soccer organization in North Carolina. With approximately 5,000 families with active players, CSA is one of only two clubs in North and South Carolina that offers every level of play in youth soccer.
The OrthoCarolina Sportsplex will house six fields, including five artificial turf fields, with one of the turf fields being a FIFA 2-certified surface. An adjacent 20,000 square foot building will contain the CSA club store, administrative offices, changing facilities and physical therapy space.
CSA's roots began as a structured organization in 2005 with 17 teams and 250 players. In 2008 South Charlotte Soccer Association (SCSA) and Charlotte Soccer Club (CSC) would merge to form the new Charlotte Soccer Academy, collectively providing greater access to soccer fields, venues, player development and quality training and coaching for Charlotte-area families. Today CSA is one of only 80 clubs in the country to be part of the U.S. Development Academy program for high school boys competing with the MLS professional clubs and one of only 70 clubs to be a member of the Elite Club National League program for high school girls. Its breadth extends as far north as Cabarrus County, with 45 teams, and as far south as Matthews, N.C. with 35 teams.
The organization has several community outreach programs including an annual program that provides clinics for Charlotte Mecklenburg Schools special needs programs in middle and high schools. CSA also awards around $80,000 each year in need-based scholarship funds for players.
The addition of the OrthoCarolina Sportsplex will provide a home field for the club that can be utilized for practices, camps, and events throughout the year, saving notable costs.
"Our club's success at such a prodigious rate is undeniably due in part to diversity, with ages and structured levels of play from instructional groups for three-year-olds all the way to national level programs for under 18," said Brad Wylde, executive director of Charlotte Soccer Academy. "CSA's goal is to provide an encouraging environment for every player no matter their ability or age, and partnering with OrthoCarolina puts our playing facilities on par with the strength and depth of our club."
The grand opening ceremony will take place Sunday, July 26 from 4:00-7:00 p.m. at the Charlotte Soccer Academy OrthoCarolina Sportsplex at 13333 Dorman Road in Pineville. The day will include a bounce house, carnival games, music, contests, food samples, prizes and more. For more information visit OrthoCarolina Sportsplex
Leave a Comment