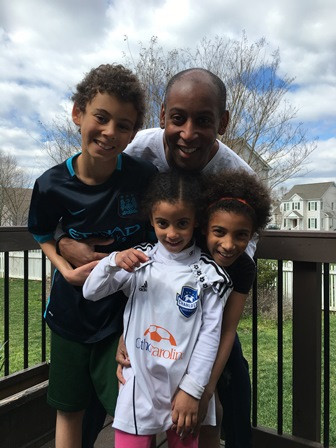 My kids play at Charlotte Soccer Academy and as they develop their game, I've been reflecting on my time as a professional soccer player. What advice would have been helpful to me as I played over the years?
Here are a few tips that I'm sharing with my kids that could be helpful to any player during their soccer career.
Train all out, all the time. I didn't save it for game days. Training hard can actually help you be better on game days because you are physically and mentally accustomed to giving it your all.
Make mistakes. Yes, I really did say that. Making mistakes allows you to get better. Too many times, I didn't want to make mistakes so I played it safe as opposed to taking chances and learning from them. I didn't make enough mistakes as a player.
Fuel your body. Soccer is an extremely demanding game with little to no breaks. Proper nutrition is key to maintaining performance. Stay hydrated and fuel your body with a proper mix of carbs, protein and healthy fats before and after games. I always kept an extra water bottle and healthy snacks on me for quick grab and go options.
Be on the lookout for burnout. I myself was a soccer junkie, I played all the time – at one point playing on four teams at once. Many players today are similar, taking on extra playing sessions and incorporating additional cross-training. Some players are built for this and love it, but others aren't. If you notice your child acting more tired or losing their excitement for the sport it might be time to back down and take a little break.
Andy Hylton is a P.A. (Physician Assistant) in OrthoCarolina's Pineville office and also has a degree in Athletic Training. He has played professional soccer in the U.S. and England, and also played for Great Britain's soccer team in the World University Games (Olympics for students) in Beijing, China. Andy treats all ages and orthopedics needs, particularly sports medicine injuries and conditions.
Leave a Comment