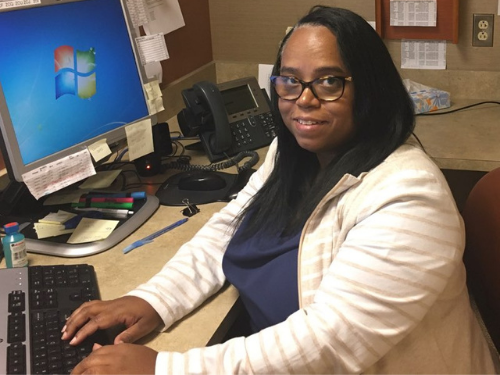 Describe your past and what lead you to OC.
I have worked in healthcare since 2007. I have obtained a certification in Medical Billing Reimbursement from Central Piedmont Community College and was referred by an employee for the position with Orthocarolina.
What does a typical day look like for you?
My daily responsibilities include: answering incoming calls, managing voicemails, schedule referrals, working the appointment ques, managing the cancellation list, and going through faxes.

What do you like most about your position? What inspires you?
What I enjoy the most about my position is helping patients. I enjoy helping patients to ensure comfortability and a positive experience. What inspires me is being a positive example for my children. I am also inspired by the amazing people I work with at Foot & Ankle. I have learned a lot since being in this department.
Which Core Value of OC (Quality, Service, Community, Teamwork) do you feel you identify the most with and why?
The core value I identify with the most would be teamwork. At OC when everyone works together task is completed efficiently, which leads to a great experience for patients.
What are some of your goals and aspirations – personally or professionally?
Personally, I would like to expand my travels, and travel outside of the United States.
Outside of work, what do you like to do?
Outside of work I love spending time with my family, traveling to new places, and trying new restaurants.