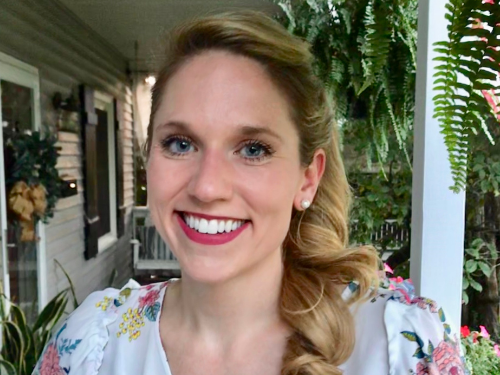 Describe your past, education, and what lead you to OC.
I am from a small town in KY and attended Centre College for undergraduate studies. My path to OT began after my grandfather had a severe stroke my senior year. After beginning OT school, it didn't take long for me to realize my interest in hand and upper extremity rehabilitation. While studying for boards, I traveled with my husband for some of his away rotations, one of which was in Winston-Salem. In each place we traveled, I searched for shadowing options in hand therapy. OC was incredibly supportive in getting me set up and for the month we were here, I came to the clinic to shadow most days of the week. Little did I know that the people I met during that time would one day be my colleagues. After some further traveling, about a year and a half later, life brought me back to Winston-Salem and ultimately back to OC!
What does a typical day look like for you?
A typical day involves the evaluation and treatment of patients with a wide variety of upper extremity diagnoses. If possible, a detailed chart review of all new patients precedes this to allow for optimal care and to help the day go more smoothly. This includes reading operative reports as well as physician and PA-C documentation to garner a greater understanding of the patient's clinical picture prior to them into the clinic. Carpal tunnel syndrome, trigger finger, and distal radius fracture are among some of the most common diagnoses that we see in our department. It is also not uncommon to see patients who have sustained a major fall or trauma resulting in surgical repair of complex fracture, tendon, or nerve injury. Splinting is another key part of my day as many of our patients require a custom orthotic as part of their post-operative care.

What do you like most about your position? What inspires you?
The best feeling for me as a therapist is when my patients return to the clinic excited about something they've been able to do since their last visit that they haven't been able to do since surgery/injury. It is always something that adds such quality to their life and the most important things can be vastly different for each patient. Whether it's getting back to holding a tennis racquet, horseback riding, or simply feeding themselves—sharing in those joys with patients is what inspires me.
Which Core Value of OC do you feel you identify the most with and why?
Teamwork. I have the privilege to work with amazing colleagues that are always willing to lend a helping hand and take the time to help me further my knowledge and understanding.
What are some of your goals and aspirations – personally or professionally?
Professionally—to continue to improve my skills as a therapist in order to help as many patients as I can restore engagement in activities meaningful to them.
Personally—the plan of running Boston and New York didn't quite work out this year. So, for now, they'll have to stay on my bucket list.
Outside of work, what do you like to do?
Outside of work, you can usually catch me running, traveling, and spending time with my husband, family, and friends. I also enjoy hiking and playing frisbee and hide-and-seek with our dog (Costa).
What would you say to someone considering the field of work you are in or applying for a position with OC?
Working at OC is a wonderful opportunity. If you are about teamwork and providing quality care to patients, OC is the place for you! You will get to learn from some of the best and spend each day alongside some of the brightest and most caring people you will ever meet.